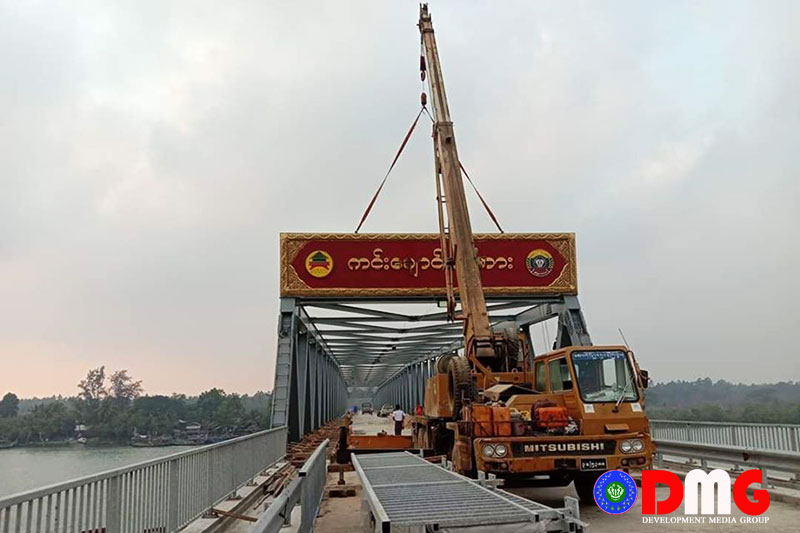 Aung Kaung Zaw | DMG
April 30, Ramree township

Locals are demanding that the government cut the proverbial ribbon on a newly constructed bridge connecting Kyaukphyu and Ramree townships as soon as possible.
Lay Taung town resident U Aung Naing Tun said the Kinchaung Bridge, spanning a creek of the same name, should be opened before the rainy season arrives in earnest.
He added that transportation would be made significantly easier for people living in Lay Taung and the surrounding area once they are able to use the bridge.
"I hope that the bridge will open before the rainy season starts so that people in Lay Taung town can use it. We need to use that bridge for our health and social issues. We can go to Kyaukphyu via the bridge if we need healthcare. Otherwise it is 16 miles to go to Ramree," U Aung Naing Tun said.
Currently, construction on the 1,256-foot-long bridge is 95% complete but it has not yet been opened to the public.
U Kyaw Shwe, the Pyithu Hluttaw lawmaker for Ramree Township, said the bridge has not yet been officially opened due to the "unsettled conditions" in Arakan State, where armed conflict persists amid concerns about the COVID-19 pandemic.
"Deputy Minister Dr. Kyaw Linn from the Ministry of Construction said that they cannot yet give an opening date because of the unsettled conditions and the COVID-19 situation. Currently, people are only allowed to use it in an emergency, but they still need to ask for a permit," he said.
Work on the Kinchaung Bridge began in 2017 at an estimated cost of approximately K6.7 billion (US$4.62 million) and with a targeted completion date of April 2020.
When opened, the bridge will facilitate overland travel between Kyaukphyu, Lay Taung, Ramree and Sittwe, as well as onward to Yangon and Mandalay to the east.