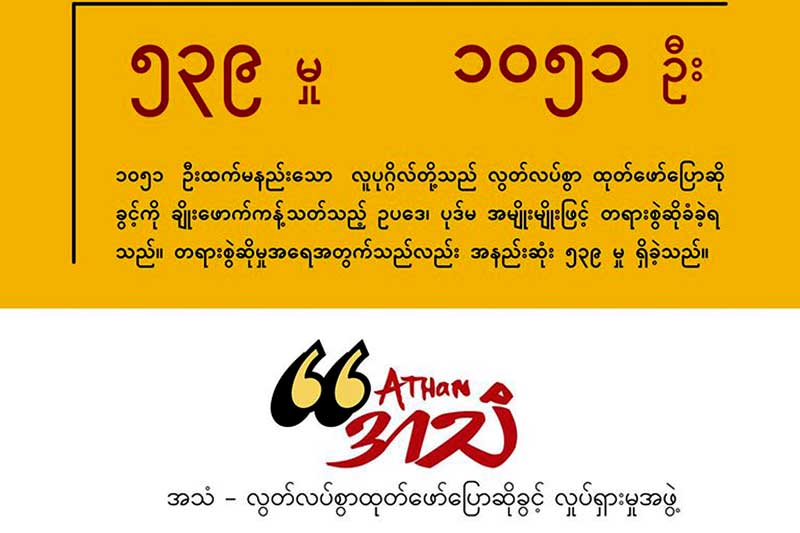 Hnin Nwe | DMG
3 May, Sittwe 
Since the National League for Democracy government took office four years ago, the right to freedom of expression has been most significantly violated in Arakan State when compared with Myanmar's other states and regions, according to the free speech advocacy group Athan. 
A fundamental aspect of that determination was an internet ban imposed on nearly half of Arakan State's townships since June 2019, said Ma Htet Htet Zaw, a researcher from Athan. 
"The internet ban in some Arakan townships is the worst violation of freedom of expression. Dr. Aye Maung, who was given the maximum punishment under this government, was sentenced to 20 years' imprisonment for a remark he gave at a literature talk," she said, referring to a prominent Arakanese politician now behind bars. "So, I must say the violation of freedom of expression is the highest in Arakan State." 
On June 21, 2019, the government imposed its internet ban on eight townships in Arakan State and Chin State's Paletwa Township — a large swath of western Myanmar that has been plagued by conflict between the Tatmadaw and the Arakan Army (AA). 
Students and activists calling for internet access to be restored have been arrested and sentenced to prison time. 
The government over the weekend lifted the internet ban in Maungdaw Township, where it said armed conflict was relatively less of an issue. 
Maung Saungkha, Athan's executive director, said freedom of expression violations have risen significantly in Arakan State as the Tatmadaw-AA conflict has dragged on.  
"We found that the internet blackout was imposed in Arakan State after the war started between the Tatmadaw and AA in the state. It is obviously seen that freedom of expression has been violated in Arakan State after the war broke out there," he said. 
A total of 1,051 people have been charged under different laws restricting freedom of expression in the first four years of the NLD government's term, with the number of cases reaching 539, according to Athan's data.