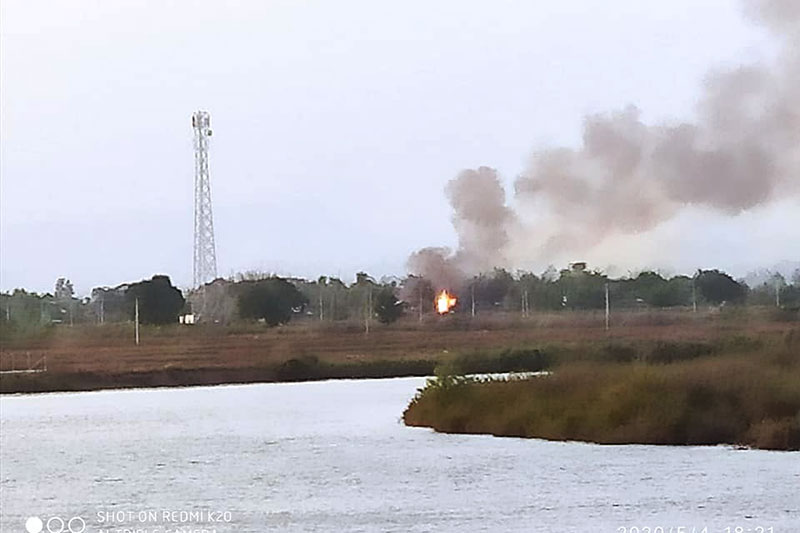 Hnin Nwe | DMG
5 May, Rathedaung

Eight wooden houses at Nga Tauktu Chay village in Arakan State's Rathedaung Township were destroyed by fire on the evening of May 4, villagers said.
The homes were torched by soldiers of the No. 538 Light Infantry Battalion as they withdrew from the village, according to Ko Kyaw Naing Tun, a Nga Tauktu Chay resident.
"Some women and young boys were looking for fish or vegetables near the village. When soldiers saw them, they shot at the villagers. The villagers fled the scene by crossing a creek. The soldiers set fire to the houses when they left the village," he said.
Ko Kyaw Naing Tun said it was not immediately apparent why the houses were set alight.
"I thought they intentionally set fire to the houses so that villagers dare not come close to their village," he said.
Amyotha Hluttaw lawmaker U Khin Maung Latt said soldiers had set fire to houses in villages previously and the government needed to protect people.
Residents from the villages of Nga Tauktu Chay and Ywar Thit fled to Pyar Chaung Gyi IDP camp and other nearby villages during a clash between the Tatmadaw and Arakan Army on November 16, 2019. The fighting occurred when the AA attacked Light Infantry Battalion Nos. 536, 537 and 538 in the area.
The No. 538 Light Infantry Battalion, stationed north of Rathedaung town, is a half mile's distance from Nga Tauktu Chay village.
DMG phoned the military's Western Command spokesperson Colonel Win Zaw Oo and Brigadier-General Zaw Min Tun of the Tatmadaw True News Information Team to seek comment on the reports of village houses set ablaze, but they could not be reached.
More than 500 houses in Tinma village, Kyauktaw Township, were burned down on March 22, when soldiers allegedly set them on fire. The Arakan State Disaster Management Department has provided more than K90 million to rebuild the houses.