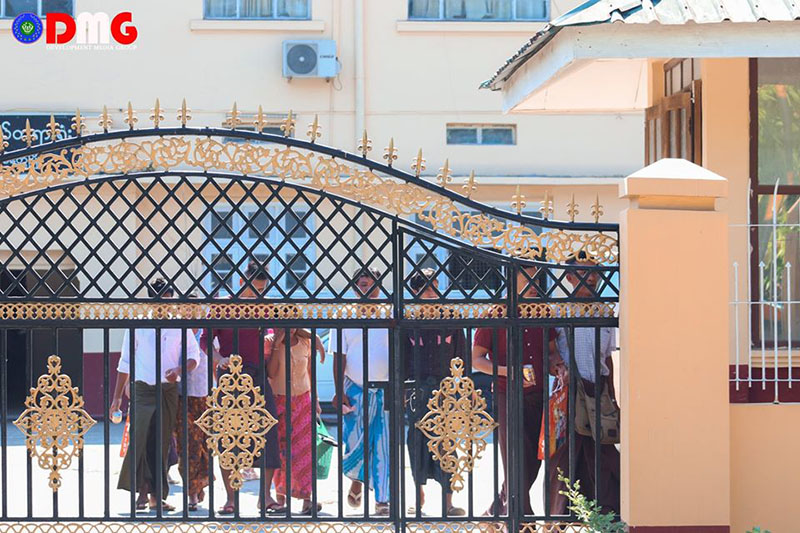 Aung Htein | DMG
16 May, Rathedaung 
The Sittwe District Court has acquitted six men from Kyauktan village, Rathedaung Township, who were part of the sweeping detention of dozens of local residents last year and months-long subsequent legal proceedings. 
Ko Tun Min Naing, Ko Nyi Nyi Htay, Ko Maung Maung Hlaing, Ko Oo Myint Tun, Ko Soe Win Kyaw and Ko Maung Nyein Shwe were acquitted of charges under Myanmar's Counter-Terrorism Law on May 15, according to their lawyer U Saw Hlaing. 
The Tatmadaw opened a lawsuit against eight people from Kyauktan village in June 2019 under sections 50(a) and 52(a) of the Counter-Terrorism Law, accusing them of having ties to the Arakan Army. 
Although the six adult males in the group were acquitted on Friday, Mg Nay Lin Tun, 15, and Mg Thein Aye Maung, 17, are still facing trial at the Sittwe Township Court under the Child Law because they are minors. 
The mother of Ko Maung Nyein Shwe said she did not want to see a repeat of such cases involving innocent civilians falsely accused of Arakan Army affiliation. 
"I do not want to see more accusations against people of having ties with the AA. I do not want people facing that bitter situation of being treated cruelly," Daw Yi Yi Soe said.
Following Friday's acquittal, Ko Maung Nyein Shwe said he was beaten while detained in Kyauktan village. 
"They covered our eyes and tied our hands at the back during interrogation. If we said we did not have any ties with the AA, they beat us more," he said. 
On April 30, 2019, the Tatmadaw summoned 275 Kyauktan residents to the village school for questioning, ostensibly to root out Arakan Army associates. 
During a lengthy mass interrogation, gunfire broke out in the early hours of May 2, 2019, killing six detained civilians and injuring eight others. Two of the injured subsequently died while undergoing medical treatment. 
The Myanmar National Human Rights Commission conducted an inquiry into the incident and submitted a report in June 2019 that declined to find fault in the Tatmadaw's handling of the situation in Kyauktan.