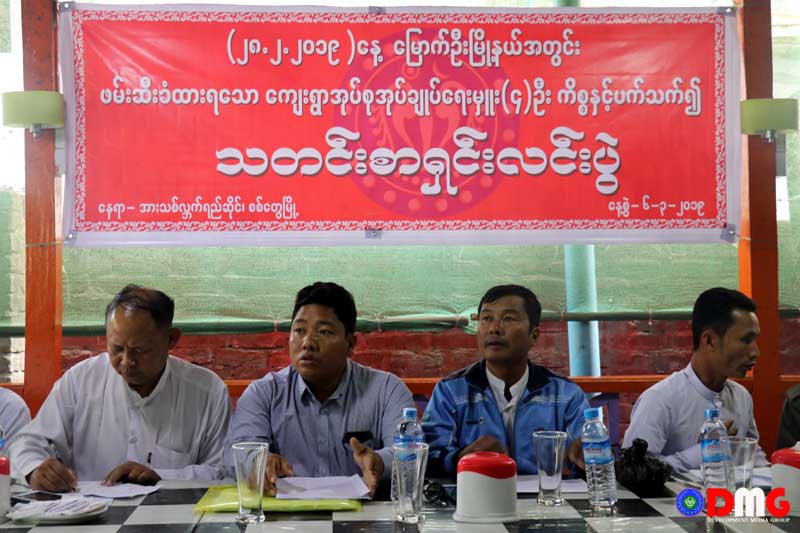 Myo Thiri Kyaw| DMG
1 June, Myebon 
A pair of village administrators from Myebon Township, Arakan State, are facing a lawsuit opened under two sections of the Counter-Terrorism Law, according to their families. 
The administrator of Angu Ywar Thit village, 40-year-old U Maung Zaw, and the administrator of Ywar Thit Kay village, 42-year-old U Kyaw Myint, were arrested by the Tatmadaw and police on May 30, their families said.  
A case has been opened against them under sections 50(j) and 52(b) of the Counter-Terrorism Law, on suspicion of having ties to the Arakan Army, Pyithu Hluttaw lawmaker U Pe Than for Myebon Township told DMG. 
They were detained at the Myebon Township General Administration Department office one night and transferred to the Myebon Township police station on May 31, family members said. 
U Maung Tin Myint, the brother-in-law of U Maung Zaw, said their houses were also searched by the police and Tatmadaw personnel on May 30. 
"The township administration office phoned us [to inform us] that he was arrested. Then, three police and four soldiers carrying guns arrived at his house and searched. They searched his sister's house. Three houses of his relatives were also searched. I do not know why he was arrested," said U Maung Tin Myint. 
The two village administrators were issued 14-day remands by the Myebon Township Court. 
Daw Khin Hla Yee, the mother of U Maung Zaw, said her son was being wrongfully prosecuted. 
"I want them released from the case immediately. They are innocent," Daw Khin Hla Yee said. 
DMG phoned Myebon Township administrator U Zarni Kyaw for comment on the arrests of the two village administrators, but he could not be reached. DMG also phoned the Myebon Township police chief, Police-Captain Aung Than Zaw, but was told that he was not at the station to take the call. 
As armed conflict between the Tatmadaw and the Arakan Army continues in Arakan State, village and ward administrators are often put in difficult circumstances due to their positions of local authority, and several have been arrested. 
U Pe Than said villagers and administrators are sandwiched between the warring parties. 
"Administrators are worried for their safety because they have to go and meet if any armed organisation summons. They don't want to work as administrators," U Pe Than said. 
Several ward and village administrators from Rathedaung, Mrauk-U, Kyauktaw and Minbya townships submitted resignation letters in 2019 because some local officials were arrested or otherwise targeted by members of both sides of the conflict.