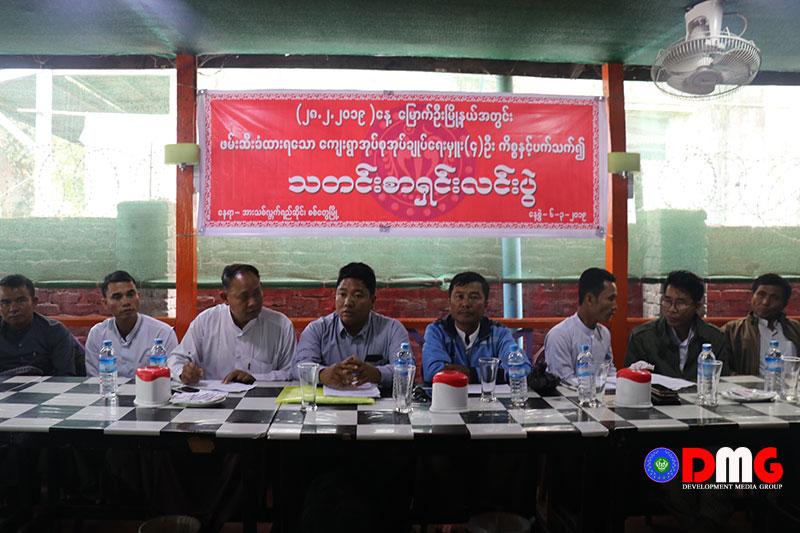 Aung Htein and Hnin Nwe | DMG
5 June, Myebon 
Dozens of ward and village administrators from Arakan State's Myebon Township submitted resignation letters to their local General Administration Departments on June 5, following the recent detention of three of their peers on terrorism charges. 
Sixty-eight administrators reportedly tendered their resignations for safety reasons after three of their colleagues were arrested in recent days and charged under Myanmar's Counter-Terrorism Law. 
"We are concerned for our security because some village administrators have been detained for questioning. We are worried about being arrested by the Tatmadaw. This is the reason why we submitted resignation letters," one local administrator who spoke on condition of anonymity told DMG. 
As armed conflict between the Tatmadaw and the Arakan Army continues in Arakan State, the roles of local authority held by village and ward administrators can put them in difficult positions, vulnerable to extortion and easy targets for prosecution or scapegoating.  
Some administrators in Myebon Township reportedly fled their homes recently for fear of being arrested by the Tatmadaw. 
DMG contacted Myebon Township administrator U Zarni Kyaw for comment on Friday's mass resignation, but he could not be reached. 
The loss of significant numbers of ward/village administrators could lead to a breakdown in the rule of law and administrative processes in the township, warned U Pe Than, the Lower House Lawmaker for Myebon Township. 
"The rule of law and administrative matters would be affected because the village administrators serve as the bridge between urban and rural," the legislator explained. 
The administrators of Angu Ywar Thit and Ywar Thit Kay villages were arrested by the Tatmadaw and police on May 30 and the two men face charges under sections 50(j) and 52(b) of the Counter-Terrorism Law. 
In addition, the administrator of Myebon Township's North Ward was apprehended by a combined squad of soldiers and police personnel on June 3, reportedly for alleged ties to the Arakan Army. 
Ward and village administrators have been among many civilians arrested and questioned on suspicion of having Arakan Army links amid ongoing clashes between the Tatmadaw and the ethnic armed group in Arakan State.