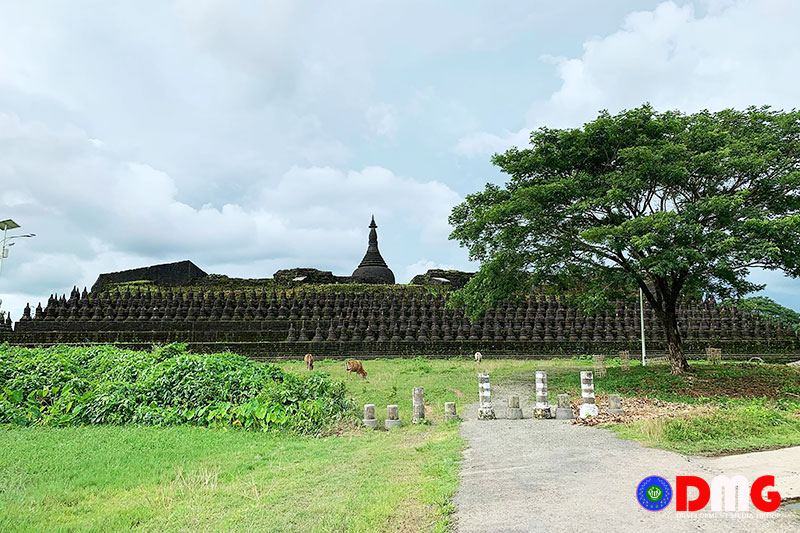 Myo Thiri Kyaw and Myat Swe | DMG
8 June, Sittwe

The number of domestic and foreign visitors to Arakan State is on pace for its third consecutive year of decline as armed conflict between the Tatmadaw and Arakan Army continues to batter tourism, joined this year by the COVID-19 pandemic, said the Directorate of Hotels and Tourism in Arakan State.
Through June 8 of this year, Arakan State tallied only 68,061 visitors for 2020. The full-year total was 169,121 in 2017, 142,782 in 2018 and 138,962 in 2019, according to figures from the directorate. Most travellers focus their visits on Thandwe, Sittwe, Kyaukphyu and Mrauk-U townships, it said.
The number of people who visited Mrauk-U in 2017 — before armed conflict began to increasingly impact the region — was more than 5,000, but it decreased to about 1,000 in 2018 and 2019, with even fewer tourists expected this year due to the COVID-19 pandemic, said U Oo Than Tun, chair of the Hotel and Tour Guide Association.
"The Mrauk-U Princess Resort was closed last year due to clashes. Mrauk-U Hotel was closed in January this year because of COVID-19. We have had to reduce staff and suspend the operations when there were no visitors. Even residents of Arakan State do not visit pagodas now because of the pandemic and armed conflict," he said.
Some hotels in Thandwe District regularly suspend operations in June but this year many of those businesses have been closed since March under the direction of the Ministry of Health and Sports, said the Directorate of Hotels and Tourism in Thandwe District.
U Myint Soe, assistant director of the directorate, said hoteliers had suffered losses and staff struggled to earn a living with the sagging visitor numbers.
Other local, small businesses have also been hard-hit.
"Last year, more than 80,000 people visited in summer. This year's summer had no visitors and some restaurants cancelled their order for food or discarded the food in their shops. And staff have also had their salaries reduced," said U Myo Thet, the owner of a restaurant and souvenir shop in Ngapali Beach, Thandwe.
The government has suspended most international flights and restricted domestic travel since the country's first COVID-19 cases were reported on March 23.