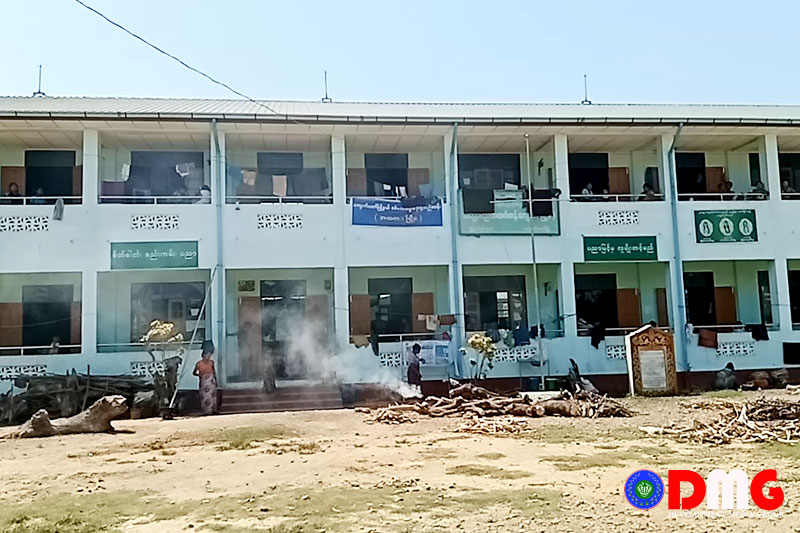 Kyaw Thu Htay | DMG
15 June, Sittwe

The process of relocating internally displaced people (IDPs) sheltering at school buildings in Arakan State's Kyauktaw town began on June 14, with teachers set to be given new curricula training at schools currently inhabited by hundreds of IDPs.
IDPs living in high school buildings in Kyauktaw town are being moved to monasteries and community halls, where some are facing accommodation troubles at their new locations, said U Maung Win, manager of the IDP "camp" at Kyauktaw's Myoma High School.
"They found it convenient to take shelter at school buildings because they had classrooms and school toilets," U Maung Win said.
The government has instructed IDPs to vacate the school buildings, but it did not arrange alternative accommodation for them, he added.
More than 3,000 IDPs are taking refuge at seven school buildings in Kyauktaw town, with the war-displaced at two high school buildings being the first moved out of classrooms in recent days. The other IDPs will have to follow suit before classes resume next month.
Myanmar's academic year normally starts in early June, but this year has been postponed by more than a month due to the COVID-19 pandemic. High schoolers will resume classes on July 21, according to a release from the Department of Basic Education.
Pyithu Hluttaw lawmaker U Pe Than said arrangements are being made to relocate IDPs in Myebon town from school facilities to monasteries.
"IDPs have to rely on donors for food. If they have no place to take shelter, they would be in more difficulties during the rainy season," U Pe Than said.
Conflict between the Tatmadaw and the Arakan Army has displaced more than 150,000 civilians since December 2018.