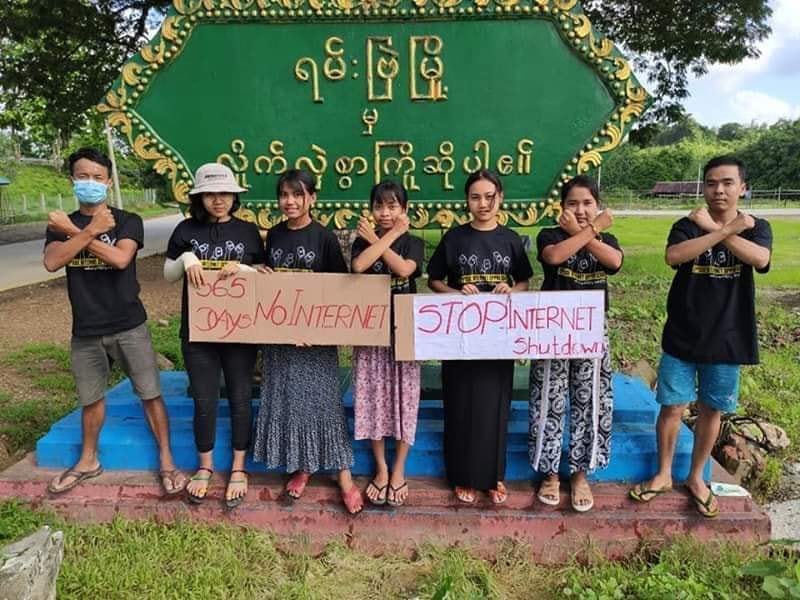 Aung Kaung Zaw | DMG
22 June, Ramree

Police have filed a case against a leading member of the Ramree Township Youth Network who was among a group of activists over the weekend calling on the government to lift its long-running internet ban in Myanmar's west, according to the network.

June 21 marked the one-year anniversary of the internet shutdown in seven Arakan State townships and Paletwa Township, Chin State.

Seven youths from Ramree town on Sunday demanded restoration of internet access, seen wearing identical T-shirts that read "Oppose internet oppression" in photos uploaded to Facebook.

Police Major Zaw Win from the Ramree Township police station subsequently opened a case against Ko Myo Min Tun, an in-charge from the Ramree Township Youth Network, under Section 19 of the Peaceful Assembly and Peaceful Procession Law, alleging that he did not apply with authorities before staging the protest.

"A case was filed against him as he failed to submit the protest permit," said U Tun Naing, director of the Ramree Township Youth Network, on June 22. "We are under police investigation."

Several civil society organisations (CSOs), lawmakers and political parties demanded the lifting of the internet ban in Arakan and Chin states on June 21.

A total of 14 diplomatic missions in Myanmar also called for unimpeded internet access.

The shutdown has led to increased economic hardship and violations of human rights, as well as denying more than 1 million people timely access to information, opponents of the internet embargo contend.