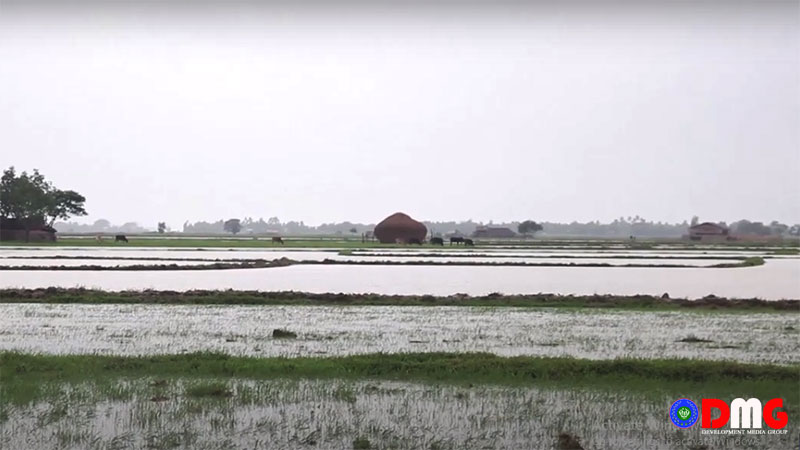 Myo Thiri Kyaw | DMG
22 June, Sittwe

Internally displaced people (IDPs) who returned to their villages to farm in late May amid hopes that conflict in their respective townships had abated are facing challenges in an unusual growing season.

Among the returnees are residents of Rathedaung, Ponnagyun, Kyauktaw and Mrauk-U townships, with the total number of returnees exceeding 7,000, according to the Rakhine Ethnics Congress (REC).

The returnees are facing difficulties with the availability of the cattle and paddy strains they need to cultivate, said U Khin Maung Latt, an Upper House MP.

"They [farmers] have an insufficient number of cattle and paddy seeds for farming," U Khin Maung Latt told DMG.

U Maung Thein Htay, who returned to Phaungseik village from an IDP camp in Ponnagyun Township, said farming has been filled with struggle this year.

"I have to grow a half-acre instead of one acre as paddy seeds are unavailable. I have no paddy strains to grow. I'll not have a sufficient staple [crop] for the rainy season," he said.

Some victims of war who intended to return to the fields have been unable to farm and have reverted to IDP camp life, in some cases due to renewed fighting near their villages.

U Khin Maung Hlaing, a villager from Kyauktan village in Rathedaung Township, said: "In the previous month, more than 200 IDPs returned to the village to do farming. Now they fled to the IDP camp due to the clashes. There are more than 10 villagers left in the village."

The lawmaker U Khin Maung Latt said the government should provide necessary assistance to IDPs who returned home to cultivate the land. Farmers in the war-affected areas, meanwhile, have expressed safety concerns.

U Kyaw Zan, chair of the Arakan State Farmers' Union, said both the government and parliament are planning to address the situation.

There were around 50,000 acres of farmland in war-hit regions where no paddy was grown or harvested last season, according to figures from the Arakan State Farmers' Union. War-torn regions have also seen a drop in paddy-growing acres this year, farmers say.