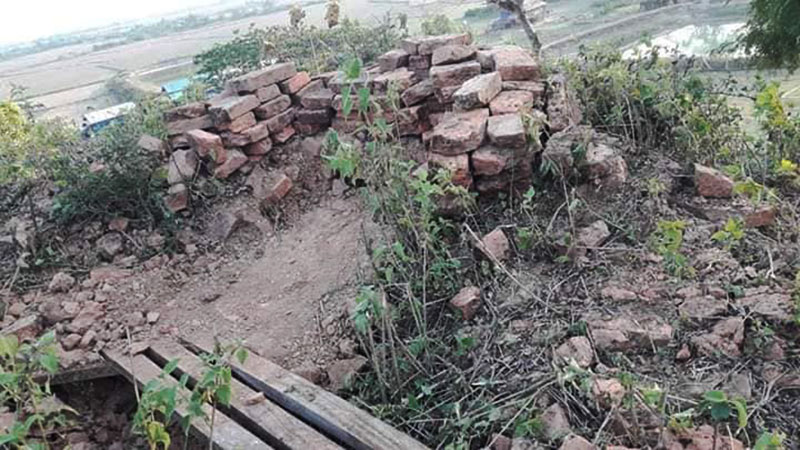 Khin Tharaphy Oo | DMG
23 June, Sittwe 
The Tatmadaw has not deployed troops at religious sites in Arakan State, the secretary of the Tatmadaw True News Information Team insisted at a news conference on June 23 in Nay Pyi Taw. 
"Video files featuring military troops at pagodas were uploaded on social media. They might have taken photos while they were checking these areas for security," said Brigadier-General Zaw Min Tun, secretary of the Tatmadaw's media and public relations outfit. 
Soldiers were not positioned at the Thonezedapone Pagoda in Buthidaung Township, but they were deployed at a hill nearby, he said. 
Amyotha Hluttaw lawmaker U Maung Kyaw Zan from Buthidaung Township said he did not know whether Tatmadaw soldiers were deployed at the pagoda because he had not been able to go there to see for himself. He said he knew, however, that troops were stationed at Aloedawpyae Pagoda, Pyay Pagoda and a monastery near Kyarnyo Pyin village. 
"There is a monastery south of Sai Din bridge near Kyarnyo Pyin village. Soldiers were staying at the monastery. Border guard police are also at Aloedawpyae Pagoda in Buthidaung," he said. 
The Tatmadaw has also denied accusations that its troops were positioned at Thinkyit Taw Pagoda in Mrauk-U Township. Arakan State Hluttaw lawmaker U Tun Thar Sein from Mrauk-U Township said that like U Maung Kyaw Zan, he could not say definitively whether soldiers were at the pagoda or not because no one could go to see the pagoda. 
"We are not sure if they are staying at the pagoda or near the pagoda. They are living at the top of Mt. Thinkyit Taw," said U Tun Thar Sein. 
The stationing of military units in close proximity to religious sites is controversial due to the sanctity of these locations and the potential for collateral damage to revered structures if hostilities should arise nearby. 
The issue was also addressed by Brigadier-General Zaw Min Tun at a press conference in January. 
Daw Khin Than, chairwoman of the Mrauk-U Cultural Heritage Conservation Group, said clashes and refugees resulting from conflict have imperiled the cultural heritage of Mrauk-U Township, site of the ancient Arakanese Kingdom.