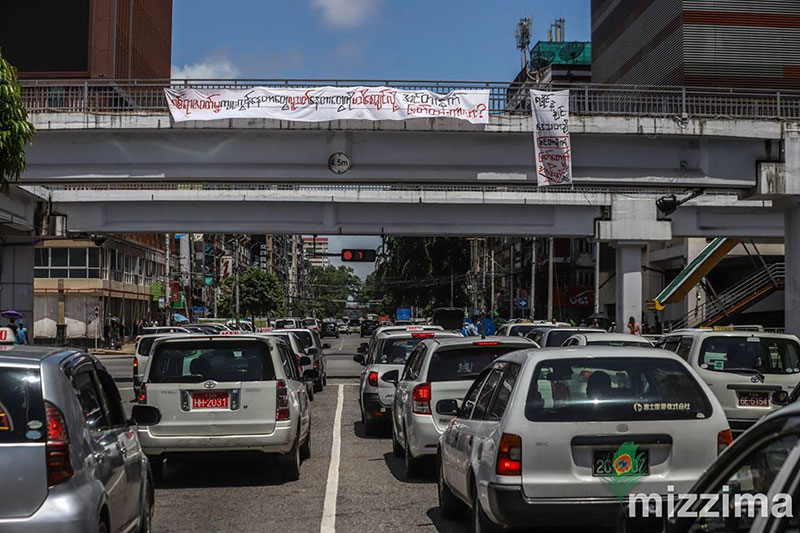 Khine Roe La | DMG
24 June, Yangon 
The Kyauktada Township police station in Yangon has filed a case under the Peaceful Assembly Law against five activists who organised a protest over the weekend calling for the restoration of internet access in Arakan and Chin states. 
The protestors hung banners on the Sule pedestrian overpass in downtown Yangon on June 21 to mark the one-year anniversary of the internet ban, which has been imposed on seven Arakan State townships and Chin State's Paletwa Township. 
On June 22, the Kyauktada Township police station filed a case against five protestors including Ko Sithu Aung aka Maung Saungkha, director of the freedom of expression advocacy group Athan and a vocal supporter of free speech causes, according to Ko Ye Wai, research manager of Athan. 
He said the Kyauktada Township police sent notification letters to the five protestors the next day. 
"Opening a case against those who protested against the internet shutdown and oppression, and called for justice, under a section of the Peaceful Assembly and Peaceful Procession Law, amounts to a violation of freedom of expression," Ko Ye Wai said. 
Demonstrators in Yangon also staged a protest in which they held vinyl signs with messages including, "Is the internet blackout aimed at hiding crimes and killings?" 
Since June 21, 2019, the government has cut off mobile internet access across the eight conflict-affected townships of western Myanmar. 
At a press briefing on Tuesday, Brigadier-General Zaw Min Tun of the Tatmadaw True News Information Team said: "The internet shutdown aims to ban the coverage of misleading news including the leakage of secret military information and the circulation of racial hate speech." 
The military spokesman said the Tatmadaw had no plan to recommend that the government restore internet access to the affected townships. 
In addition to the demonstration facing legal action in the commercial capital, activists elsewhere in Myanmar also protested against the internet ban as it entered its second year on Sunday. Authorities in Arakan State's Ramree Township filed a Peaceful Assembly Law case against a young protestor there who called for the restoration of online access. 
The long-running shutdown has deprived more than 1 million people of internet access in Arakan and Chin states.