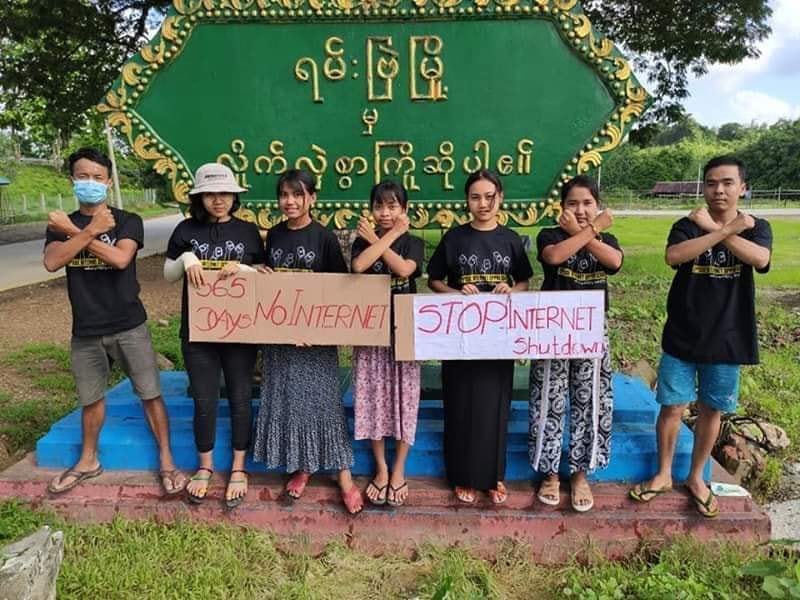 Aung Kaung Zaw | DMG
25 June, Ramree 
A court in Ramree Township has sentenced a leading member of a local youth network to 15 days in prison or a K20,000 (US$13.80) fine after he organised a protest against a one-year-old internet ban affecting several Arakan State townships. 
The court on June 25 sentenced Ko Myo Min Tun, an in-charge from the Ramree Township Youth Network, under Section 19 of Myanmar's Peaceful Assembly Law, a provision requiring that local authorities be notified in advance of a planned demonstration. 
"We were sued under Section 19 of the Peaceful Assembly and Peaceful Procession Law because we staged a protest against the government by gathering more than five people. The court sentenced me to 15 days in prison or a fine of K20,000. I chose to pay the cash fine," Ko Myo Min Tun said. 
Civil society organisations (CSOs) and activists staged demonstrations in multiple Myanmar cities demanding that the ban be lifted on June 21, marking the one-year anniversary of the internet blackout imposed on seven Arakan State townships and Chin State's Paletwa Township. 
In addition to the Ramree youth's legal woes, five people were charged under the Peaceful Assembly Law in the commercial capital Yangon, where they unfurled banners in opposition to the internet blackout on the Sule pedestrian overpass downtown. 
The shutdown has led to increased economic hardship and violations of human rights, as well as denying more than 1 million people timely access to information, opponents of the internet embargo contend.