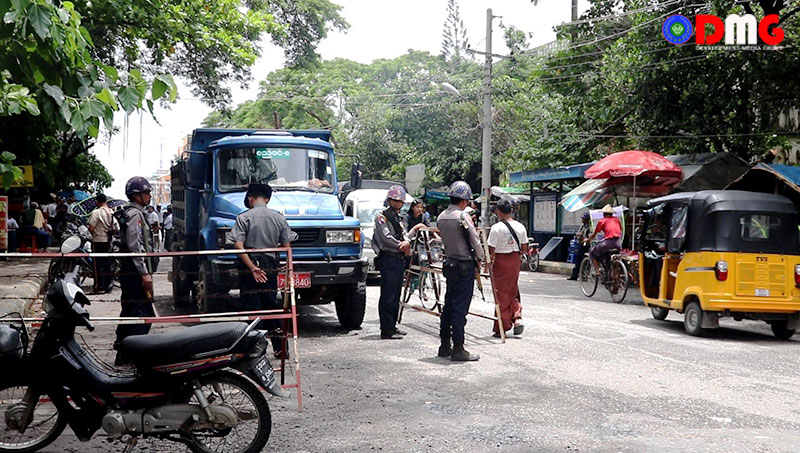 Min Tun | DMG
29 June, Sittwe

The Union Election Commission (UEC) said it would announce whether the 2020 election will be held across conflict-plagued Arakan State after reviewing the security situation, according to representatives from political parties who recently met with the Commission.

The UEC made its intentions known during a confab with several political parties at the Melia Hotel in Yangon on June 27, said U Ko Hla Toe, the vice chairman of the Kaman National Progressive Party.

"The UEC said it would hold the general election in Arakan State, but it would announce the details depending on the security situation," he added.

From Arakan State, the meeting with the UEC was attended by representatives from the Arakan National Party (ANP), Arakan League for Democracy (ALD), Kaman National Progressive Party and Mro National Development Party.

With clashes between the Tatmadaw and the Arakan Army escalating in Arakan State this year, political parties and civil society organisations worry that the 2020 election will not be held throughout the state. Multiple constituencies in Shan State did not hold the vote in 2015 due to persistent conflict at the time.

The UEC told those in attendance on June 27 that it would take the grievances of small ethnic political parties into consideration if the 2020 general election does not proceed in areas where ethnic minorities predominate, said the vice chairman of the Mro National Development Party, U Shet Thae Aung.

At a news conference earlier this month, a spokesperson for the UEC said the Commission had asked the ministries of Home Affairs and Defence if the election could be held in Arakan State and eastern Myanmar's Wa region, but was still awaiting a response.

An official from the ruling National League for Democracy told DMG in January that some townships in Arakan State might not be able to hold elections later this year, while stating that the vote would likely proceed as planned in at least some of the state's 17 townships.