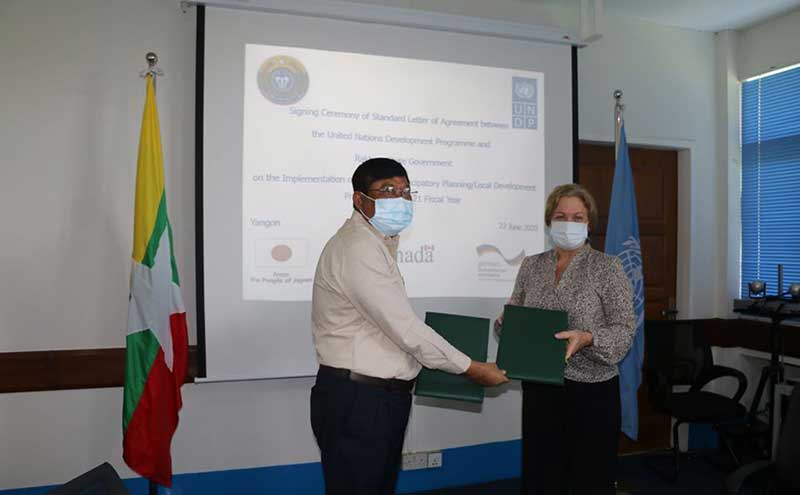 Mrat Swe | DMG
4 July, Sittwe

The United Nations Development Programme (UNDP) in Myanmar has signed an agreement with the Arakan State government to carry out several development projects in the state, with infrastructure initiatives to be implemented beginning on October 1.

The deal was inked on June 22 to undertake 16 infrastructure projects across seven townships in Arakan State.

The 16 projects — one each in Ponnagyun and Pauktaw Townships, two each in Taungup and Thandwe Townships, three each in Ramree and Manaung Townships and four in Gwa Township — aim to fulfill the needs of Arakan State's people, UNDP Myanmar said in an emailed response to questions from DMG.
The infrastructure plans cover construction of roads, bridges, water supply developments and culverts, as well as conducting vocational training such as basic electrical courses, according to UNDP Myanmar.

All infrastructure projects are scheduled to be completed by March 31, 2021, the UN agency said in its email reply.

Similar projects were implemented in Gwa, Taungup, Thandwe, Ramree and Ponnagyun townships since fiscal year 2018-19, benefiting 240,000 local people in the project areas, according to UNDP Myanmar.

The UN body is also drawing up a five-year plan on enhancing local governance processes in Myanmar as part of its Township Democratic Local Governance (TDLG) programme in Bago Region and Mon and Arakan states, with that plan to be implemented in 2021.