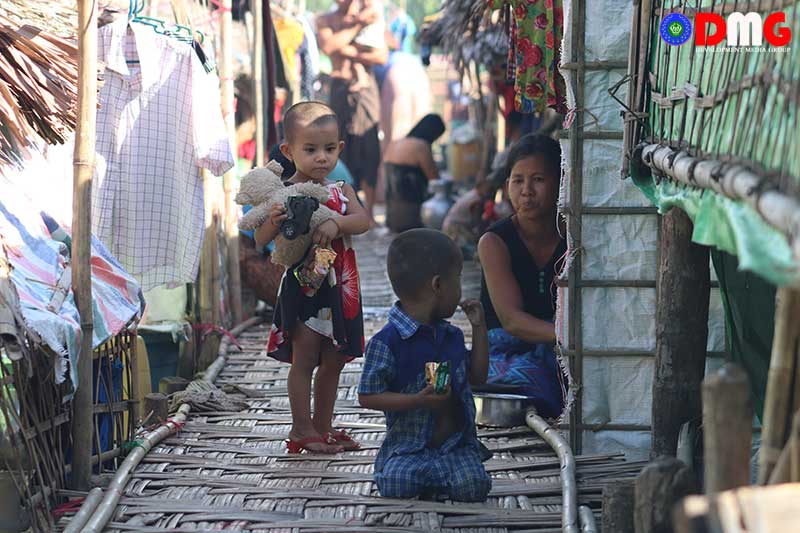 Kyaw Thu Htay | DMG
24 July, Sittwe

An influenza outbreak has been reported among some sheltering at camps for internally displaced people (IDPs) in Arakan State, according to officials tasked with overseeing the camps.

Approximately 170 IDPs are sheltering at Tayzar Yarma Meditation (Thayetouk) Monastery in Sittwe and about 50 people have fallen ill with fever, said those displaced.

The sick have reported suffering pain, dizziness and vomiting, with healthcare services nonexistent in the camps, said Daw Ma Yin Sein, a displaced person from Rathedaung Township.

"I've been sick since a week ago and am taking medicine that I bought from a pharmacy," she added. "Medical workers from the Department of Public Health haven't provided healthcare services to us."

U Aye Maung Kyaing, a Rathedaung resident sheltering in Sittwe, said he wanted the Department of Public Health to offer free healthcare services to IDPs who lack a regular income due to their current circumstances.

"My wife and children felt unwell. I can't send them to the clinic or hospital because I have no regular income," he explained.

Influenza cases were also reported in other IDP camps, such as Myo U Gaung, Lat Kauk Zay, and Tin Nyo in Mrauk-U Township, and Ann Thar Ywa and Thae Kan IDP camps in Minbya Township, according to the camps' in-charges.

In addition, there have been reports of people suffering from fever in IDP camps in Rathedaung Township.

An instruction was given to open health clinics at IDP camps on a weekly basis to prevent an influenza outbreak during the rainy season, said Dr. Soe Win Paing, assistant director of the Department of Public Health for Arakan State.

"You will suffer flu symptoms if you get sick and catch a cough in the rainy season. An influenza outbreak may occur at IDP camps that are often submerged by floodwaters," he added. "We have already instructed our employees to set up clinics at IDP camps to offer free healthcare services to displaced people."

The number of civilians displaced over the past year due to hostilities between the Tatmadaw and Arakan Army in Arakan State has reached almost 200,000, with many IDPs struggling to meet basic needs including healthcare, education and shelter.