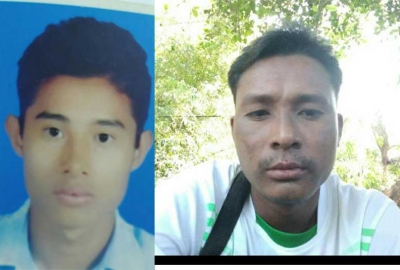 Aung Htein | DMG
30 July, Sittwe 
With fighting between the military and Arakan Army well into its second year, the number of people detained for alleged links to the ethnic armed group continues to rise, with critics arguing that due process and basic rights for the accused have been jettisoned in authorities' zeal to nab supposed "terrorists" and their sympathisers. 
Arrestees have primarily faced charges under Myanmar's Counter-Terrorism Law and Unlawful Associations Act. Some have languished behind bars awaiting trial, others have been convicted on dubious prosecutorial grounds, and in rare instances, defendants are released for lack of evidence. Some have died in custody, while others have been held incommunicado for days, weeks and even months.  
But in a category unto itself have been cases where individuals have gone missing with little or no information known about their disappearances, including whether legitimate legal proceedings are moving forward against them.  
A DMG tally covering the period from January through July of this year found that at least 30 people fit into this latter group. 
Broken down geographically, they are: two locals from Kama village, one from Chatphauk village and one from Lamumaw Model Village in Taungup Township; two from Zinchaung village of Kyaukphyu Township; two from Khaungtok village in Kyauktaw Township; and in Minbya Township, 18 from Tinma village and two each from Pharpyo and Nayan villages. 
"Such events shouldn't happen," said Lower House lawmaker Daw Khin Saw Wai, who represents Rathedaung Township. "Actually, those suspected must be arrested. And, they must be prosecuted under the law. No matter if every case has much evidence, the law has been enacted for the courts to tackle the cases." 
Although 18 locals from Tinma village were arrested by the military about five months ago, no information about them has been received to date, according to their families. 
Likewise, 36-year-old Ko Than Shwe and family member Ko Maung Win Shwe from Pharpyo village were arrested near Rar Maung Bridge in Minbya Township on March 1. Five months later, no information about their whereabouts or legal status has been received, the family disclosed. 
"We worry that if anyone falls into their [the military's] hands, they might be dying rather than living. If my sons are alive, if they are guilty, please send them to the court. If they are not guilty, I request to release them as quickly as possible," said U Phyu Gyi, the father of Ko Than Shwe. 
U Myat Tun, director of the Arakan Human Rights Defenders and Promoters Association, said the military needs to abide by the International Human Rights Convention. 
"Their acts are designed against democracy. On the other hand, some cases of war crimes were committed. It doesn't accord with the Geneva Convention," he said. 
With regard to the arrests, Brig-Gen Zaw Min Tun of the Tatmadaw True News Information Team said in some cases simple logistics were to blame, at least in cases of prolonged detention and ambiguous custody arrangements. 
"It is necessary to do prosecution in some townships. They are arrested in certain areas. We might have delayed processes to send those persons from the arresting areas to urban [locations] for prosecution, but some of them cannot be sent to the urban areas due to security measures," Brig-Gen Zaw Min Tun said at a press conference on July 25. 
Families of the detainees are demanding that the military take appropriate legal action against those arrestees if they are believed to be guilty of criminal wrongdoing — and if not, that they be released as soon as possible.