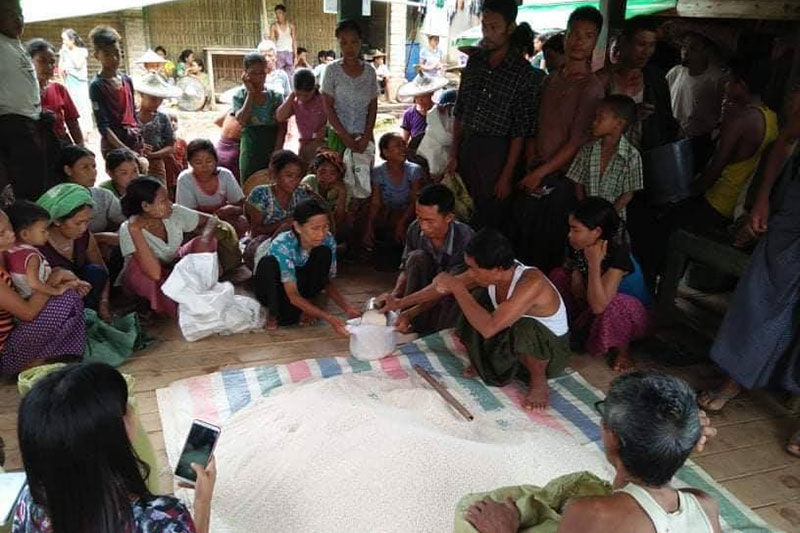 Mrat Swe | DMG
4 August, Paletwa

At least 20 civilians have gone missing in Paletwa Township, Chin State, amid armed conflict in the region, said Salai Kyaw Aung, secretary of the Chin IDP Support Committee.
Three people went missing in 2018, 10 in 2019 and seven so far this year, CISC said on August 1.
"As far as we can know, 20 people are missing during armed conflict," Salai Kyaw Aung said.
Fifteen of them disappeared during motorboat trips, but further information about them has not yet been received, and the remaining five people were abducted by the Arakan Army, he said.
Salai Aung Soe, Salai Binjavin, Salai Khin Maung Tun, Salai Aung Tun Ko and U Myint Maung were abducted by the AA, CISC added.
On July 29, the AA abducted four of seven Chin youths who were returning from Kyauktaw Township to Paletwa Township, as well as a person living in Paletwa town, Salai Kyaw Aung said.
"We do not have any evidence to accuse the Tatmadaw or AA of abducting the missing 15 people. But I guess such cases would mostly involve armed groups," he said.
The AA has not formally responded to accusations that it abducted the five Paletwa residents. DMG remains hesitant to reach out to the ethnic armed group for comment on the allegations because media outlets and journalists citing its members in news reporting have been charged in the recent past under Myanmar's Counter-Terrorism Law.
Several people in Arakan State have been detained by the military with little or no information made available about the circumstances or reason for their arrest, while many more have been taken into custody over suspected links to the AA.
Brigadier-General Zaw Min Tun of the Tatmadaw True News Information Team has said that after arrests were made, there have been delays in bringing some cases to trial due to security reasons in the relevant jurisdictions.