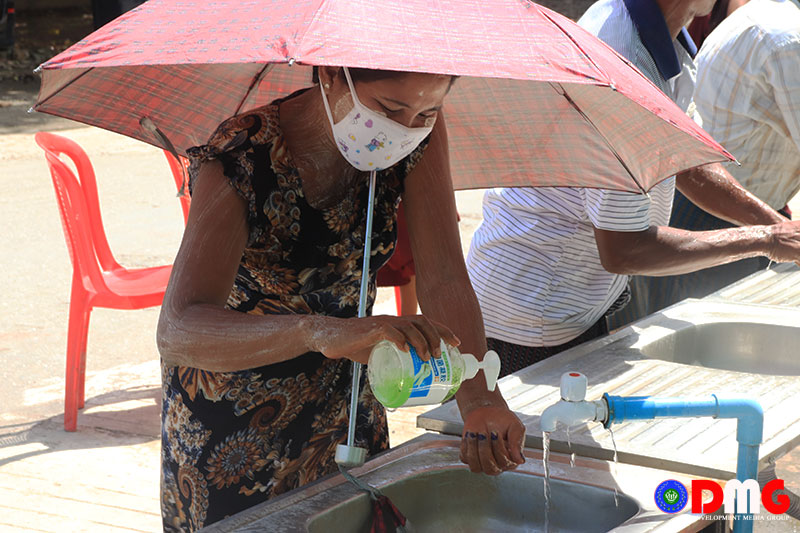 Kyaw Thu Htay | DMG
7 August, Ann 
With the government no longer providing any food to people under facility quarantine in Ann Township, Arakan State, medical staff are having to collect donations from philanthropic groups and among the general public, residents said. 
There are 38 people under facility quarantine at the Shwe Ann Taung Hall in Ann and the government has stopped provisioning to the hall since May 21, said a medical staffer who asked not to be named. 
"The General Administration Department in the township provided K3,000 per person for a day when facility quarantines were opened. But it was for only two months that they were supported. So, we have to collect donations from the residents for the people under quarantine," the medical staffer said. 
Ko Myo Lwin, a resident of Ann town, said people under quarantine in Ann have been provided food thanks to donations from medical staff and donor organisations. 
"Doctors and nurses from the Ann Township hospital ask for donations from charity groups for people under quarantine. If they cannot get donations from donor organisations, they have to ask for donations from their family to get food for people under quarantine," Ko Myo Lwin said. 
DMG phoned Arakan State government spokesperson U Win Myint about the government's provisioning of food to quarantine centres, but he could not be reached. 
According to figures from the Department of Public Health, a total of 728 people had been put under quarantine at 248 quarantine centers in Arakan State as of August 5. That same data set indicated that a total of 16 people tested positive for COVID-19 in Arakan State, all of whom had recovered and were discharged from their respective hospitals, the department said.