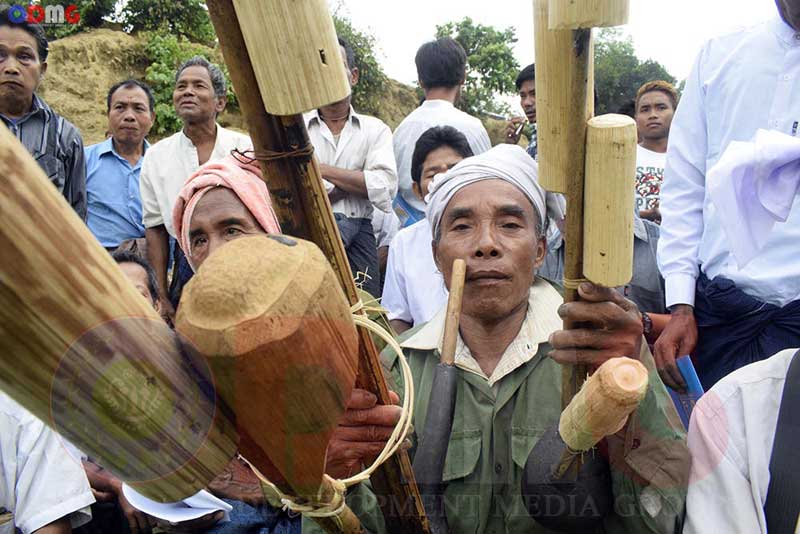 Min Tun | DMG
10August, Sittwe

Officials from Arakan State-based ethnic political parties say they will contest the 2020 election with the aim of preventing the dissolution of their parties, mindful of a requirement that they field candidates in at least three races to remain viable under election law.
To that end, the Mro National Democracy Party will contest two Amyotha Hluttaw seats, one in Arakan State's Kyauktaw Township and another in Yangon Region, as well as two Arakan State Hluttaw seats in Mrauk-U and Kyauktaw townships.
The MNDP decided to field 2020 election candidates for four seats in order to remain a registered party, explained Ko Soe Naung, secretary of the MNDP.
"If our political party keeps existing, we can provide help for our people," he said.
The Khami National Development Party likewise plans to contest only a handful of seats but in doing so will meet the three-candidate threshold required to remain registered, said U Sein Hla Kyaw, chair of the KNDP.
The Kaman National Development Party will field four candidates for state hluttaw seats — in Arakan State's Thandwe Township, and three in the Yangon Region townships of Mayangon, Tarmwe and Mingala Taung Nyunt. A fifth candidate from the party will compete for a Pyithu Hluttaw seat representing Thandwe in the national parliament.
The Kaman have previously held formidable numbers in ethnically mixed Arakan State, with particularly sizeable populations in Ramree, Kyaukphyu and Sittwe townships. But with shifting demographics in these townships diminishing the Kaman's ethnic base for 2020, the party decided to contest the election in other constituencies, said U Tin Ngwe, vice chair-2 of the Kaman National Development Party.
"We are concerned about security due to the armed conflict in Arakan State. So, candidates would not come from Sittwe. We have to field in the election at least three candidates to be able to keep the party standing. So, five candidates from our party will contest in the election," he said.
Dozens of ethnic political parties contested Myanmar's 2015 general election, but only a handful saw widespread success in a vote that was otherwise dominated by the National League for Democracy and the military-backed Union Solidarity and Development Party.
Some Arakanese ethnic political parties have made a point to assert that the rights and voices of ethnic minorities have lacked political representation because of the failure to elect their candidates to the national, and state- and region-level legislatures.
Last month the Union Election Commission announced that the 2020 general election would be held on November 8.