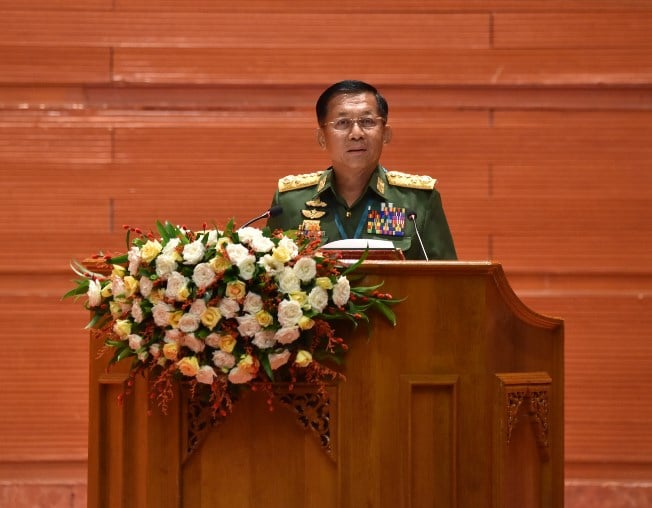 Khaing Roe La | DMG
19 August, Nay Pyi Taw 
Stakeholders participating in Myanmar's peace process must foremost be honest, Senior-General Min Aung Hlaing said during his opening speech at the fourth iteration of the Union Peace Conference – 21st Century Panglong on August 19.  
The commander-in-chief cited the dealings of the post-independence Anti-Fascist People's Freedom League government with the Burma Communist Party to draw a comparison to today's negotiations. 
"After regaining independence, the AFPFL government held negotiations with the then powerful BCP armed group many times. The BCP always exploited the situation then," he said in a transcript of his remarks published in state-run media. 
Senior-General Min Aung Hlaing accused the BCP of "launching a propaganda campaign that accused the AFPFL government of [being] the main culprit of the civil war," before firing a generic broadside.  
"I am pointing out this as it reflects the situation today. We can see the fabrication of history that internal armed conflicts have broken out due to the Tatmadaw. Some political parties and armed organisations ... have fabricated history by substituting the Tatmadaw in the place of the AFPFL government," he said, without identifying specific perpetrators. 
During his own speech at the opening ceremony of the UPC, Sai Nyunt Lwin, vice chair-1 of the Shan Nationalities League for Democracy, said Myanmar's ethnic people must have equality. 
"Equality is important for all ethnic races to live together peacefully in the country. There must be equality of rights and freedom among all ethnic races," said Sai Nyunt Lwin. 
In her remarks, State Counsellor Daw Aung San Suu Kyi said one impact of the country's armed conflicts was distrust and suspicion among different groups. 
"One reason for having a lack of trust is because of the absence of the willingness to do 'give and take' and compromise," she said in a transcript also printed in state media.  
Part 3 of the Union Accord is expected to be signed at the end of this year's UPC, scheduled to conclude on August 21.  
The conference was postponed multiple times due to COVID-19, and in the end a handful of ethnic armed groups did not send representatives to the confab in Nay Pyi Taw, including the Arakan Army, which was denied an invite.