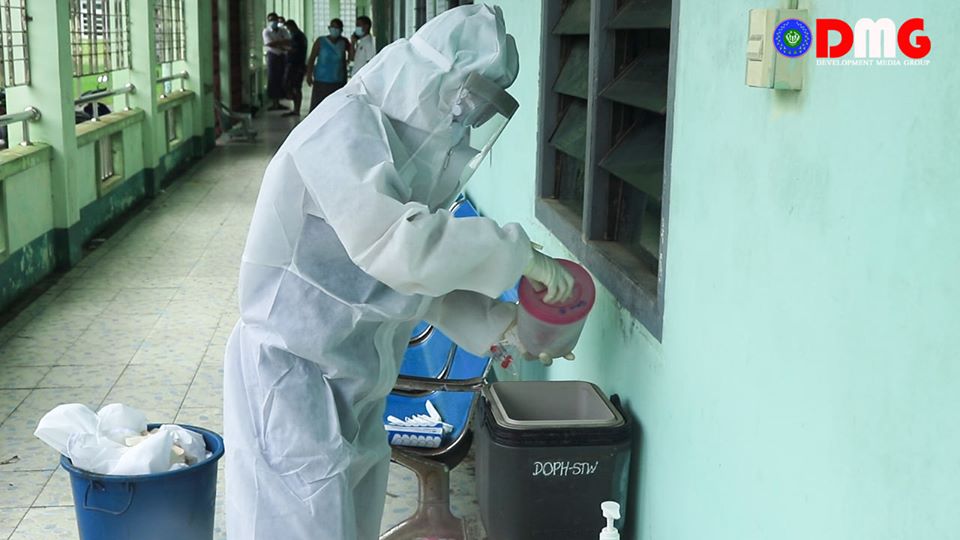 Kyaw Thu Htay | DMG
24 August, Sittwe
 
Eight healthcare workers including a doctor, as well as five Buddhist monks, are among 67 people who have recently tested positive for coronavirus in the Arakan State capital Sittwe, Sittwe Hospital's Medical Superintendent Dr. Zaw Lwin said.
 
A female employee from CB Bank in Sittwe was found to have been infected with coronavirus on August 16 and the number of recently confirmed COVID-19 patients in Arakan State had risen to 72 as of August 24 at 8 a.m. The 67 Sittwe patients are receiving medical treatment at Sittwe Hospital.
 
"Out of 67 coronavirus-positive patients receiving medical treatment at Sittwe Hospital, seven patients are female nurses and one is a doctor. Five Buddhist monks are among the virus-positive patients," Dr. Zaw Lwin said.
 
All coronavirus-positive patients are in good health and are doing well, he added.
 
A 23-year-old woman from Pauktaw Township who currently lives in Sittwe and works for an NGO tested positive for coronavirus on August 19. A female staffer from the Arakan State government office was also infected with the virus and tested positive on August 20.
 
In addition, three people in Mrauk-U Township who tested positive for coronavirus on August 21 and 22 were healthcare workers from Relief International's Myanmar country office. They reportedly visited five camps for internally displaced people (IDPs) in Mrauk-U Township to provide healthcare services within the past two weeks.
 
The 72 coronavirus-positive patients reported in Arakan State from August 16-24 represent a dramatic spike in infections, and include the first local transmissions reported in Myanmar in more than a month. Prior to this month's outbreak, there had been just 16 coronavirus cases in total reported in Arakan State.
Related Posts :