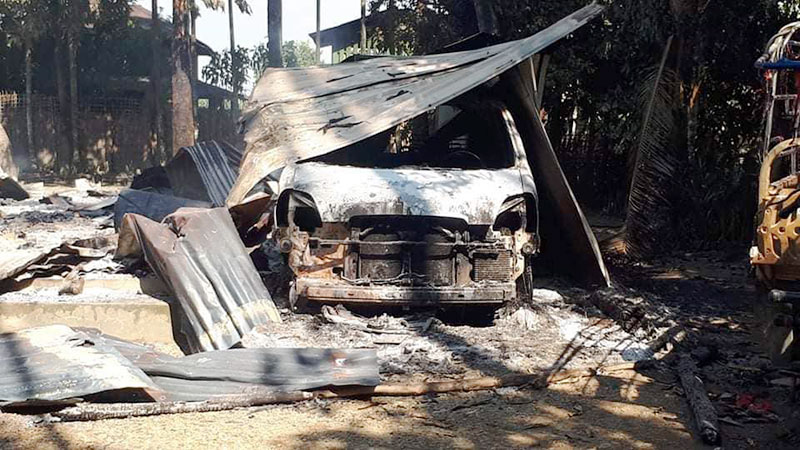 Hnin Nwe  | DMG
5 September, Kyauktaw 
At least 166 homes in Phayarpaung and Taungpauk villages in Arakan State's Kyauktaw Township were burned to the ground on September 3, according to village officials. 
A 100-strong military contingent reportedly entered Phayarpaung village and arrested some residents at about 6 p.m. on September 3 and set fire to the village a few hours later, villagers who fled their homes said. 
Maj-Gen Zaw Min Tun from the Tatmadaw True News Information Team refuted those allegations at a press conference in Nay Pyi Taw on September 4. 
Ninety-two out of 240 homes in Phayarpaung village went up in flames, according to the village administrator.  
"All valuable things such as vehicles, three-wheeled motorbikes, motorbikes, rice mills, jewelry and cash were engulfed in the fire," village clerk Ko Maung Kyi Win told DMG. "Residents were unable to take their belongings when security members set fire to the village. I can't predict the loss of property due to the fire." 
Seventy-four out of 202 homes from Taungpauk were destroyed by the fire. Estimated property losses due to the fire remain unknown. 
Village officials reportedly presented a list of homes burned down to the Kyauktaw Township administrator on September 4. 
DMG's efforts to reach the township administrator for comment were unsuccessful. 
Arrangements are being made to provide assistance to the fire victims in cooperation with the Center for Real Results and Development (CRRD), a local social organisation, said U Oo Tun Win, an Arakan State MP. 
"We are currently looking into the situation of the fire victims. We asked the Department of Public Health to distribute mosquito nets to the fire victims. We have already bought over 150 rice sacks for them. We will distribute rice bags after we collect the number of fire victims," the lawmaker explained. 
People from the fire-ravaged villages are currently taking shelter in nearby villages on the east bank of the Kissapanadi River.