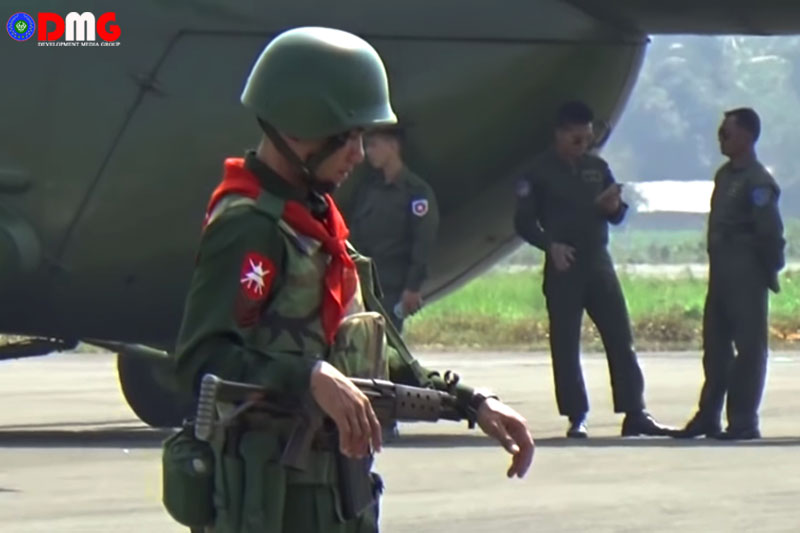 Aung Htein | DMG
7 September, Sittwe
The All Burma Federation of Student Unions (ABFSU) issued a statement on September 6 denouncing Tatmadaw militancy in Arakan State amid the ongoing COVID-19 pandemic.
Ko Htoo Khant Thaw, general secretary of the ABFSU, accused the military of committing human rights violations while involved in offensive operations in the state, which has been grappling with an upsurge in coronavirus infections since mid-August. 
"Many innocent people in Arakan State are having trouble with the military's actions," he said. "Two villages were set ablaze on September 3. I think the military has breached the human rights of locals in Arakan State."
The ABFSU's statement said the military had committed numerous human right violations in Arakan State, highlighting as an example allegations that security personnel physically assaulted a student of Kyaukphyu Education College on August 28.
At a press conference in Nay Pyi Taw on September 4, Maj-Gen Zaw Min Tun of the Tatmadaw True News Information Team defended the military's conduct in conflict-wracked Arakan State, describing it as a counter-insurgency operation.
"We are launching the military operations in accordance with the rules of engagement," the military spokesperson added.
Hostilities between the military and the Arakan Army have flared with regularity in western Myanmar since late 2018. Casualties and civilian displacement have continued with no appreciable decline since the first COVID-19 cases were reported in Myanmar in March. 
Early this month, the United Nations office in Myanmar urged the warring sides in Arakan State's armed conflict to "heed the Secretary General's call for a global ceasefire" amid the pandemic.