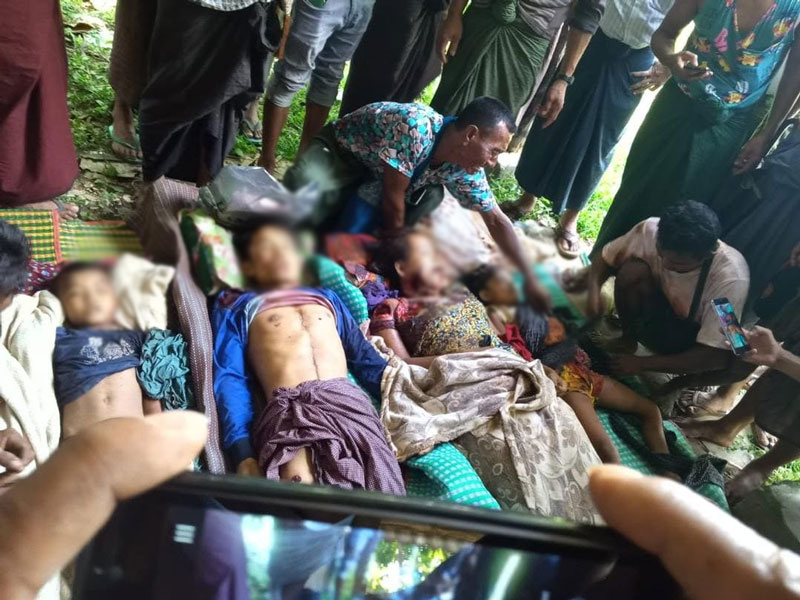 Hnin Nwe  | DMG
8 September, Myebon 
At least four people including two children were killed and 10 others were injured when artillery shells allegedly fired by the military struck Nyaungkan village in Arakan State's Myebon Township on September 8, according to locals.  
Four artillery shells landed and exploded in Nyaungkan village at about 9 a.m., although no hostilities were reported between the military and Arakan Army near the village on Tuesday, said Ko Soe Soe Lin, a village resident. 
"A girl who was drying clothes in the sun was wounded by shrapnel when an artillery shell landed in the compound of a home. A mother and her daughter and a man were killed by shrapnel when another artillery shell fell in the village, prompting many people to flee to safer locations," he told DMG.   
Those killed have been identified as Maung Thura Aung, 5, Ko Nyein Chan Thu, 27, a 29-year-old schoolteacher Ma Moe Thazin and her 5-year-old daughter Ma Thu Thu Hein. 
In addition, 10 villagers reportedly wounded by shrapnel were sent to Kanhtauntgyi Hospital. 
Ko Aung Win Myint, a volunteer from the local social organisation Rakkha Dana Foundation, said: "The situation in the village is very much worsening. An artillery shell landed in the village when I arrived. Not many people remain in the village and almost all residents have fled their homes. The injured were admitted to the hospital and we are now evacuating the elderly people who cannot walk." 
U Pe Than, an Arakan State MP, said the government should investigate the deadly shelling. 
"The government must launch a probe into the incident to be able to expose whether the military accidentally or intentionally fired heavy weapons on the village or not. No matter what happened, the artillery shelling caused heavy losses for local people," the lawmaker said. 
Nyaungkan villagers accused security personnel from military outposts south of Kyaukse village in neighbouring Ann Township of firing the shells. 
DMG contacted Brig-Gen Ye Yint Aung of the Tatmadaw True News Information Team for comment on the shelling, but he said he was not given specifics. The military had not released any announcement regarding the artillery shelling as of Tuesday evening. 
At least eight civilians from Kyauktaw Township, Arakan State, were wounded by artillery strikes late on September 1. 
The United Nations released a statement on September 8 saying it was "following the recent escalation of hostilities in Rakhine [Arakan] State with concern." 
Referring to the torching of two villages in Kyauktaw Township, the statement said: "The United Nations is deeply concerned by the continuing humanitarian impact of conflict in western Myanmar, most recently in light of clashes between the Tatmadaw and the Arakan Army on 3 September leading to serious damage in the villages of Hpa Yar Phaung and Taung Pauk where many homes were burned and civilians forced to flee."