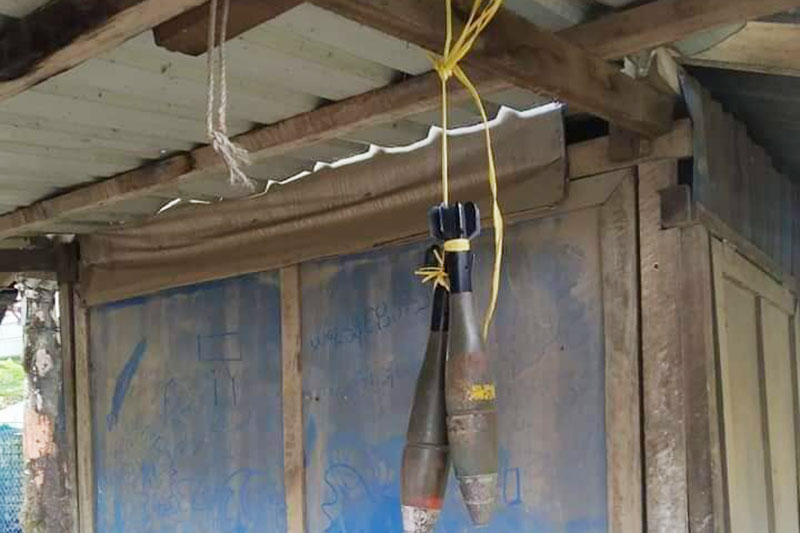 Nyan Hein | DMG
14 September, Sittwe 
Residents in downtown Ponnagyun, Arakan State, are on edge after two unexploded shells were found hung in front of a neighbourhood betel shop. 
Locals found the unexploded ordnance hanging at the betel shop in front of a sub-power station in Ywahaung Ward, Ponnagyun Township, on the morning of September 14. 
"I don't know exactly when the two unexploded shells were hung because a nighttime curfew was imposed in Ponnagyun Township," said one resident. "We discovered two unexploded bombs hanging at a betel shop, which was closed one week ago." 
U Khin Maung Latt, the Upper House lawmaker for the township, confirmed reports of two unexploded shells in Ponnagyun. 
"Two 80mm shells were strapped together with a plastic rope at a betel shop. I don't know when the two shells were hung," the legislator said. 
Elsewhere, residents from Phayarpaung and Taungpauk villages in Kyauktaw Township are concerned for their safety as some unexploded artillery shells were found in their recently fire-ravaged villages, according to village administrators and locals. 
U Tun Aye Maung, the Phayarpaung village administrator, asked that the relevant authorities seize the unexploded artillery shells in his village. 
"There are many unexploded shells left in the village and its environs. Villagers are worried that they might explode. Some unexploded shells were thrown into the creek," he added. 
More than 150 homes from Phayarpaung and Taungpauk villages were set ablaze on the night of September 3, prompting over 1,500 locals to flee to safer locations.