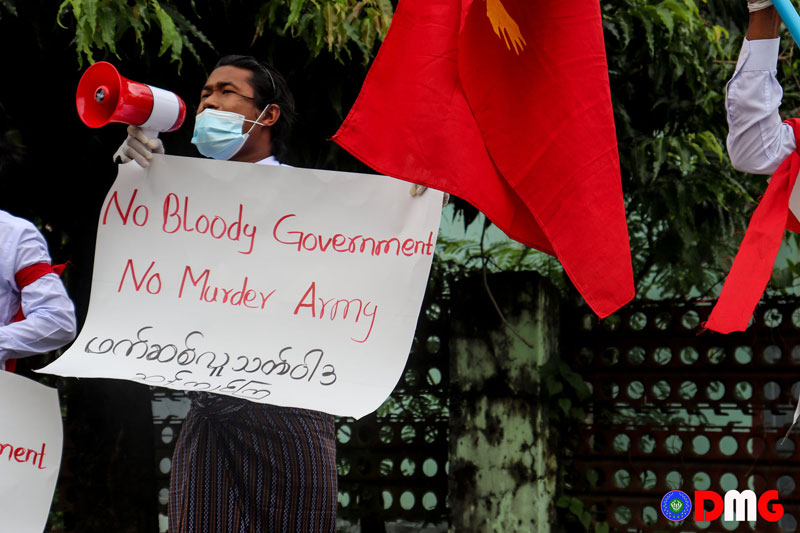 Aung Htein | DMG
14 September, Sittwe  
Lawyers' organisations in Arakan State have condemned authorities for opening a case under the Natural Disaster Management Law against three university students who staged a protest in front of government offices in Sittwe last week. 
The three student leaders are currently being held on remand in police custody.
In a statement on September 13, four lawyers groups said the student trio should be charged under Section 19 of the Peaceful Assembly and Peaceful Procession Law, which covers organising or participating in a demonstration without giving advance notice.
"According to the principles of a fair judicial system and human rights, you need to sue the defendants under the law relating to their activities. Only then will the accused be given more justice, including fair trial rights, including bail," said Daw Hla Hla Yee, a lawyer from the Legal Clinic Myanmar's Arakan State branch.
The three students are facing charges under the Natural Disaster Management Law's Section 25, a broadly worded provision that states: "Whoever, if the natural disaster causes or is likely to be caused by any negligent act without examination or by willful action which is known that a disaster is likely to strike, shall be punished with imprisonment for a term not exceeding three years and may also be liable to fine."
In their statement, the lawyers' organisations said it was clear that the actions of the three protesting students had nothing to do with the natural disaster legislation.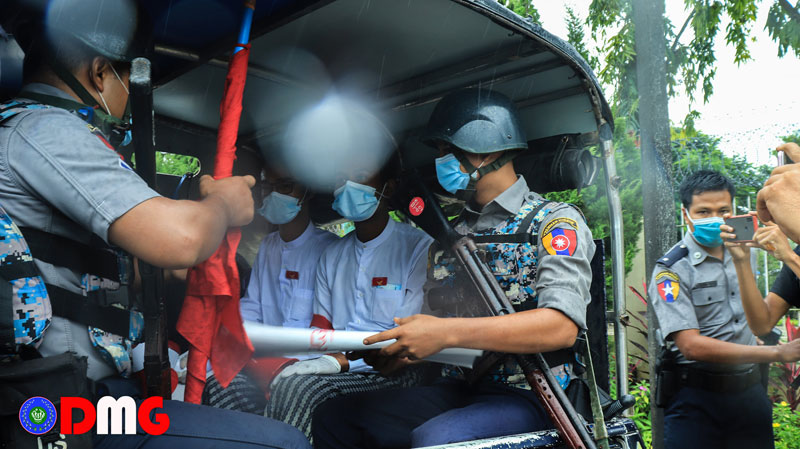 U Zaw Zaw Min, a Higher Grade Pleader from the Arakan Human Rights Defenders and Promoters Association, said any case brought against the students under Section 25 would be a "deviation" from the intent of the Natural Disaster Management Law.
The arrestees have been identified as Ko Toe Toe Aung, chair of the Sittwe Students' Union; Ko Kyaw Naing Htay, the information in-charge of the Arakan Students' Union; and Ko Oo Than Naing, the information in-charge of Sittwe University of Computer Studies.
The three students were taken into police custody while demonstrating in front of the local government offices in the Arakan State capital Sittwe.
Students in Yangon and other parts of the country have undertaken campaigns in support of the three detained students in Arakan State.
Several of those students are now facing charges under the Peaceful Assembly Law.
The All Burma Federation of Student Unions (ABFSU) issued a statement on September 9 demanding that the government release the Arakan student leaders.