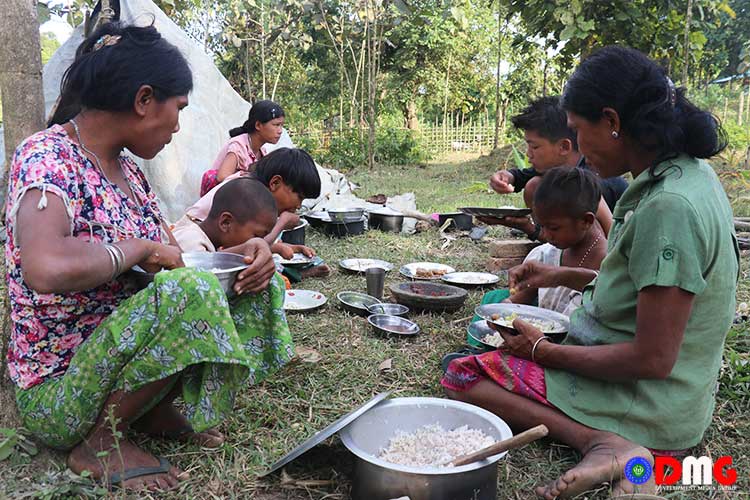 Myo Thiri Kyaw | DMG
15 September, Myebon
As many as 1,000 people who fled to Kanhtaunggyi town after artillery shells bombarded Nyaungkan village in Arakan State's Myebon Township last week are facing livelihood hardships, according to volunteers assisting those displaced.
The displaced villagers are struggling to secure basics like food and accommodation because the humanitarian volunteers have been prohibited from collecting in-person cash donations as the COVID-19 pandemic has brought new restrictions on movement and face-to-face interactions, said Ko Aung Win Myint, a member of the Rakhadana Foundation from Kanhtaunggyi town.
"We are banned from collecting cash donations in the villages. Contributions from civil society organisations and donors are urgently needed for the displaced people," he added.
At least four people were killed and 10 others were injured when artillery shells allegedly fired by the military landed and exploded in Nyaungkan village on September 8. Following the shelling, many residents fled to safer locations including a relief camp in downtown Kanhtaunggyi.
U Yan Naing Phyo, a resident of Kanhtaunggyi town, said the internally displaced people (IDPs) there are not getting proper meals, adding that conditions will worsen if unaddressed.
"People sheltering at the relief camp are fed with poor food. Some displaced people are sheltering at their relatives' homes. If the situation continues to worsen like this, the displaced people will be overwhelmed by their fears and anxieties," he said.
U Yan Naing Phyo condemned the shelling of residential areas and resultant civilian casualties, noting that the attack last week came amid a government stay-at-home order imposed due to the COVID-19 pandemic.
The IDPs are in need of food, clothing and accommodation, said Ma Khin Myint, a resident of Nyaungkan village.
"I ran in fear and brought nothing. We would like to request to donate us clothes. I want to tell the military and Arakan Army not to engage in fighting in or around the village," she said.
The number of IDPs in Arakan State has climbed to more than 200,000 due to ongoing clashes between the military and the Arakan Army over the past two years.