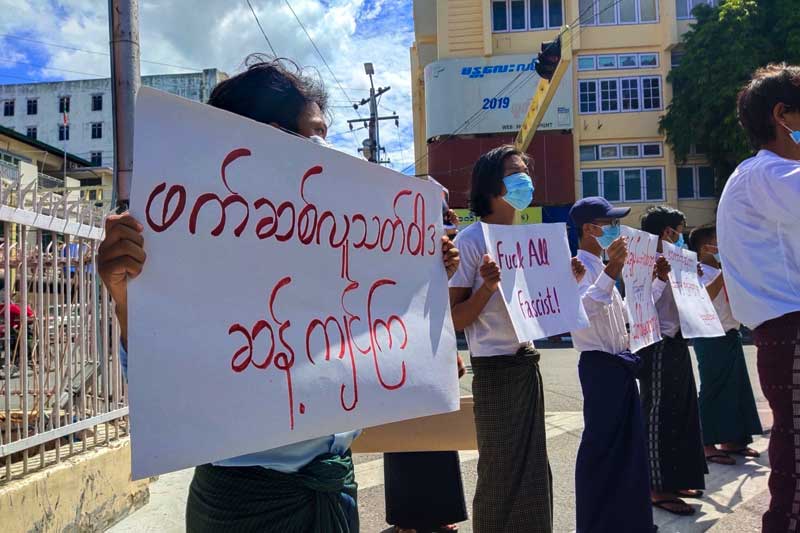 Aung Htein | DMG
16 September, Sittwe 
Some 20 students who joined recent protests opposing human rights violations in Arakan State have been arrested and/or are facing a variety of criminal charges, according to a source from the All Burma Federation of Student Unions (ABFSU).
Authorities have opened a case under the Natural Disaster Management Law against three university students who staged a protest in front of the government office buildings in Sittwe last week. In addition, 13 students who joined a protest in Mandalay and two students from the ABFSU in Yangon have been charged under Section 19 of the Peaceful Assembly Law.
Two students from the Meiktila University students' union have also been charged under Section 505(b) of the Penal Code for incitement to commit an offence against the state, according to the ABFSU.
"Is the military 'the state' if somebody criticises the military? The military violates human rights, which is not in conformity with democratic practices, while we talk about the truth. We don't trust what it describes as [Myanmar's] 'democratic transition,'" said Ko Htoo Khant Thaw, general secretary of the ABFSU. 
Ko Ye Wai Phyo Aung, from the free expression advocacy group Athan, said activists calling attention to the situation in Arakan State were being oppressed.
"The government and the military are found committing human right violations in Arakan State without listening to the people's voice," he added.
In addition to the arrests of the three students from Arakan State, two from Meiktila and one from Mandalay, three students from the Meiktila University students' union and one from Yangon are in hiding, according to the ABFSU.
Fighting between the military and the Arakan Army has flared with regularity in western Myanmar since late 2018, with the conflict leading to hundreds of civilian casualties along with allegations of human rights abuses.
Protesters in recent days have joined growing calls from lawmakers, civil society groups and international organisations for an end to hostilities and human rights violations in Arakan State and elsewhere in the country.