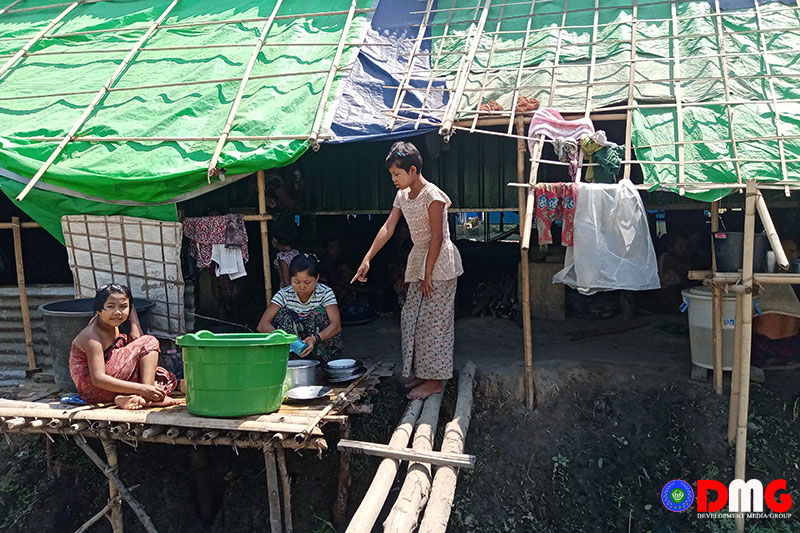 Hnin Nwe  | DMG
21 September, Kyauktaw
The number of internally displaced people (IDPs) has increased by thousands in recent weeks due to military operations in Kyauktaw Township, according to a lawmaker and local residents, even as new COVID-19 cases pile up across Arakan State and lockdowns continue. 
Regional instability prompted people in at least 13 Kyauktaw Township villages including  Shwepyi, Alaegyun, Kyaukgusu, Lamutabin, Phayapaung and Taungpauk to flee to safer locations beginning last month. 
"The people no longer dare to stay in their houses due to the arrest and interrogation of villagers by military columns, the burning of houses, and the shootings by the Navy," Kyauktaw lawmaker U Oo Tun Win told DMG. "Some people have fled to the downtown areas. People from the fire-hit villages fled to the villages on the other bank of the [Kissapanadi] River as their houses were burned at night."  
The total number of IDPs in Kyauktaw Township has "exceeded 20,000 due to the attacks by the naval vessel along the river," the MP said, referring to the Kaladan River.
Despite a regional spike in COVID-19 cases that began in mid-August, residents say ongoing military operations in Arakan State make it difficult for people to follow the health directives issued by the Ministry of Health and Sports. 
"Now the stay-at-home notice has been imposed by the government. But the people from the fire-hit villages have no place to live in," said U Oo Tun Win. "Social distancing is impossible for them. The heavy shelling in Kyauktaw Township has resulted in casualties." 
About 1,000 IDPs are currently sheltering in the religious buildings near Kyauktaw Township's Mahamuni Buddha image, about 10 kilometres northeast of Kyauktaw town.  
The IDPs are facing difficulties as there have been no donations to help accommodate the recently displaced, according to Ko Win Kyaw, who is helping the IDPs. He attributed the lack of donors to the COVID-19 pandemic, which has closed both doors and pocketbooks in Arakan State. 
"The Health Department provides healthcare to the IDPs twice a week. But there is no protective gear for COVID-19," Ko Win Kyaw added. 
More than 200,000 people in Arakan State have been displaced in large part due to the conflict between the Tatmadaw and the Arakan Army (AA), which will unofficially enter its third year in December.