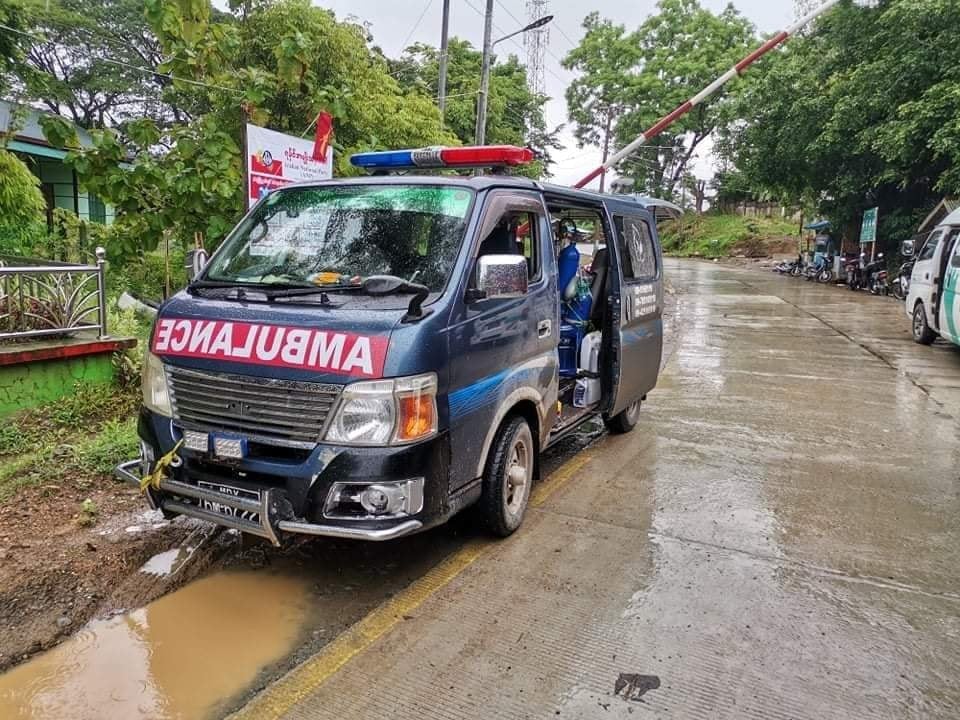 Myo Myint Zaw | DMG
23 September, Thandwe 
Seven undocumented people who entered Arakan State's Thandwe Township from Yangon by ambulance were arrested on September 23, according to a source from the district COVID-19 control and response committee. 
The individuals came to Thandwe Township in an ambulance bearing a Zeya Meggin Association logo.  
They arrived in Jadetaw Ward of Ngapali town and paid K70,000 each as a fare, said U Tun Thant Kyaw, chairman of the COVID-19 supervisory committee for bus lines. 
Wednesday's detentions reportedly marked the third time people had underhandedly entered Thandwe Township using an ambulance, U Tun Thant Kyaw added. 
"When the ambulance's lights were turned on, the checkpoints did not conduct a security check, assuming there was an emergency patient in the ambulance," he explained. "But they [undocumented people] were arrested at the Thandwe checkpoint because strict measures were put in place. When we interrogated them, they confessed that this is the third time people entered Thandwe via an ambulance." 
The arrestees are being held in detention at a quarantine centre in Ngapali town and will be charged under the Natural Disaster Management Law, U Tun Thant Kyaw said. 
"We are making arrangements to sue the undocumented people under the Natural Disaster Management Law. It is correct that they are placed under observation at the Ngapali quarantine centre," said Police Inspector Ye Min Soe, head of the Thandwe police station. 
The Ministry of Health and Sports has issued a stay-at-home notice and travel restrictions for the people in all 17 of Arakan State's townships as part of measures to prevent the spread of COVID-19.