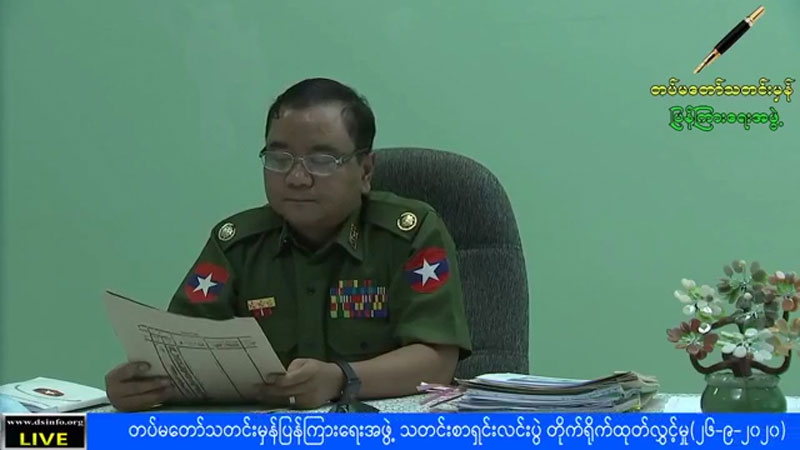 Aung Htein | DMG
28 September, Sittwe 
Though trust is essential in ongoing peace talks, it is impossible to build trust so long as ethnic armed groups negotiate while holding on to notions of "armed struggle," according to Major-General Zaw Min Tun of the Tatmadaw True News Information Team.   
"We often say it is impossible to build trust as long as we hold negotiations while they are having armed struggle. If there is a problem, they might return to the way of armed struggle at any time," Major-General Zaw Min Tun said at a virtual news conference on September 26.
Pyithu Hluttaw lawmaker U Pe Than from Arakan State's Myebon Township said the Union government and the military were responsible for making first moves in the trust-building equation.
"The government and the Tatmadaw have a chance to offer to build trust. Only if their side begins to build trust, the other side can respond positively to it," the MP said, noting that instead, "The Arakan Army has been declared a terrorist group. The way to peace is blocked. That approach cannot build mutual trust."
A unilateral ceasefire declared by the Tatmadaw in May and extended once does not include Arakan State or adjacent Paletwa Township in Chin State. Critics have noted that the exclusion covers the country's most conflict-plagued region. 
And even as Arakan State has become a front line in Myanmar's fight to contain and treat COVID-19, the state's recent viral outbreak has brought no appreciable decline in hostilities between the military and the Arakan Army. 
Civil society organisations and lawmakers have lamented the pace of progress toward peace in Myanmar, with civilian displacement and casualties continuing to rise as the conflict in the west shows no signs of abating.
The Tatmadaw, the government and ethnic armed groups are all responsible for the slow pace and roadblocks to peace, said Major-General Zaw Min Tun.