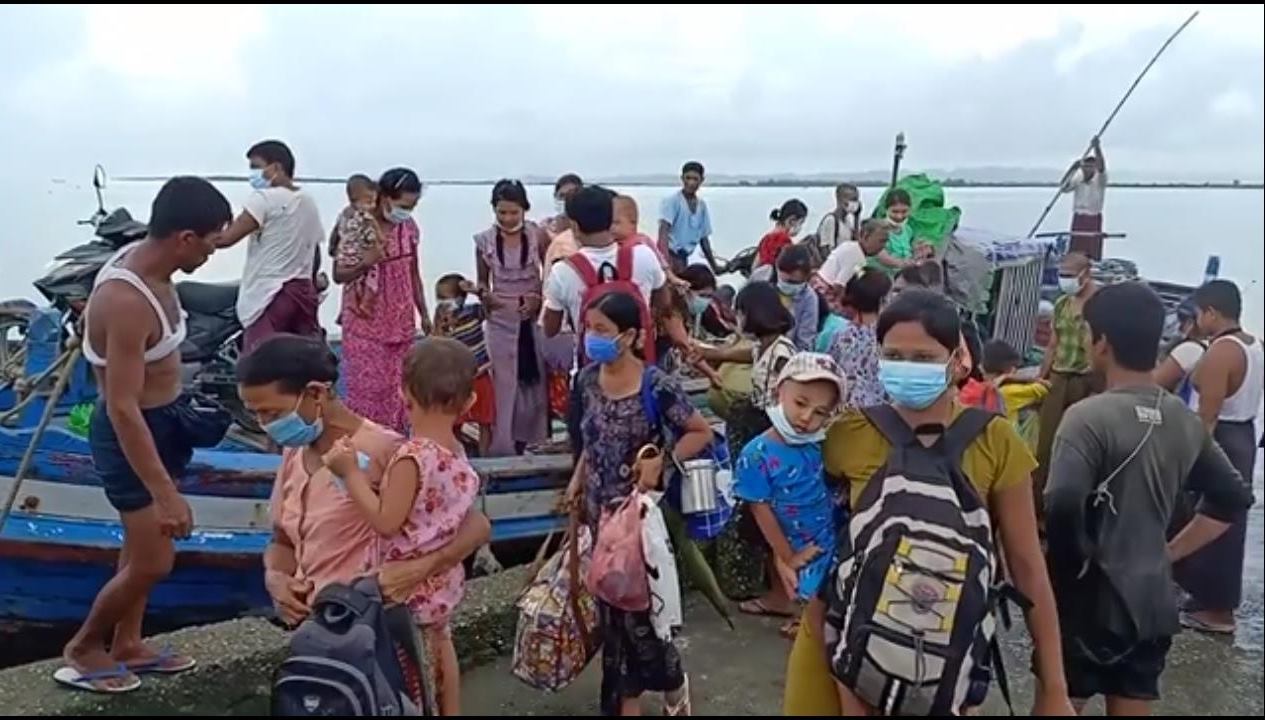 Hnin Nwe | DMG
1 October 2020, Sittwe 
The number of people internally displaced (IDPs) due to ongoing conflict between the Tatmadaw and the Arakan Army has increased by more than 36,000 over the past three months, according to the Rakhine Ethnics Congress (REC), which put the total IDP tally at 226,800. 
The REC, which has been collecting data on displaced populations in Arakan State, previously stated on July 7 that there were more than 190,700 people forced from their homes in the state at that time. The figure was updated on October 1, with the IDP total now standing at 226,800. 
"The number of IDPs has been on the rise following some villages being set ablaze in Kyauktaw Township, and some villages along the river in Rathedaung Township were fired upon with heavy weapons and small arms by the Tatmadaw navy," said U Zaw Zaw Tun, secretary of the REC. 
"We feel disappointed about people fleeing due to armed conflicts amid the ongoing virus," he told DMG. "Arakan State is not included in the Tatmadaw's unilateral ceasefire, meaning that the fighting will continue. As long as there is fighting, the number of IDPs will increase." 
Many IDPs are currently facing livelihood hardships as donations have dried up amid the coronavirus pandemic. 
The government should do its best to assist the IDPs, said Daw Khin Saw Wai, an Arakan State MP for Rathedaung Township, who added that outside organisations such as the International Committee of the Red Cross (ICRC), the World Food Programme (WFP), other INGOs and civil society organisations should also be allowed into Arakan State. 
"The government provides each IDP with insufficient rice," the lawmaker said. "The number of IDPs has been rising in Rathedaung Township significantly. The IDPs encounter problems regarding food and accommodation. The government should take responsibility for the IDPs. The local government should do its best to assist the IDPs, as well as help outside donors provide relief items to the IDPs in Arakan State." 
Out of 226,800 IDPs, about one-third are currently sheltering at 148 IDP camps across Arakan State. The remainder have been displaced to living quarters other than designated camps, according to the figures compiled by the REC. 
The Tatmadaw announced on September 29 that it would extend its unilateral ceasefire by another month, through October 31, saying the latest extension was intended "to increase momentum of effective and rapid containment, prevention and treatment of COVID-19 in Myanmar and restoring lasting peace." 
The Tatmadaw's announcement said it would suspend military activities in the country "except in the areas where terrorist groups declared by the government take positions." That caveat is widely interpreted as thus excluding large parts of Arakan State and Chin State's Paletwa Township, where the Arakan Army is operational. 
The government declared the Arakan Army to be a terrorist group on March 23.