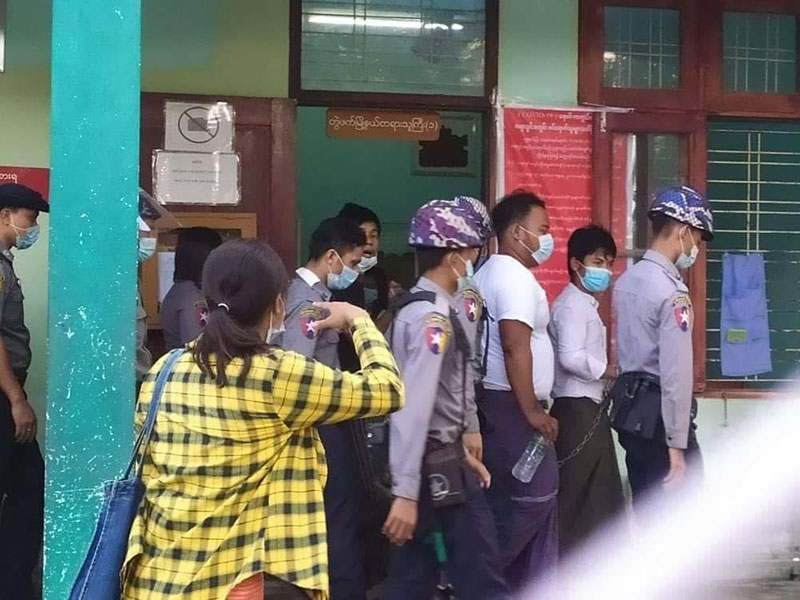 Myo Thiri Kyaw | DMG
4 October 2020, Sittwe

More than 70 civil society organisations have issued a joint statement condemning legal actions taken against students who staged recent anti-government protests demanding an end to conflict and the restoration of internet access in Arakan and Chin states.

The October 4 statement called for the immediate and unconditional release of the students, who have been charged under a variety of statutes, and for the dropping of those charges.

"We have called for the immediate lifting of all charges against students protesting and the immediate release of all imprisoned students," said Ko Maung Saungkha, executive director of the freedom of expression advocacy group Athan.

The CSOs' statement said the Peaceful Assembly and Peaceful Procession Law, Section 505(a) and (b) of the Penal Code, and the Natural Disaster Management Law are all being used to prosecute the students. Arrests were made by police officers in uniform and plainclothes, at the students' homes and other locations including on university campuses, under the pretext of a crime crackdown initiative, the statement added.

Student leaders Ko Kyaw Thiha Ye Kyaw and Ko Soe Hla Naing were arrested on September 25 and charged under Section 505(a) of the Penal Code. The duo, both central executive members of the All Burma Federation of Student Unions (ABFSU), were sentenced to two years in prison on October 2.

"On the other hand, it is disappointing that the government neglected [to take action against] the election campaigning and demonstrations with thousands of supporters by the military-backed political party and some other political parties, including the ruling NLD [National League for Democracy] party," the joint statement added.

The CSOs urged the government and the military to declare an unconditional ceasefire in all parts of the country, including Arakan State, and to resolve political issues through political dialogue.