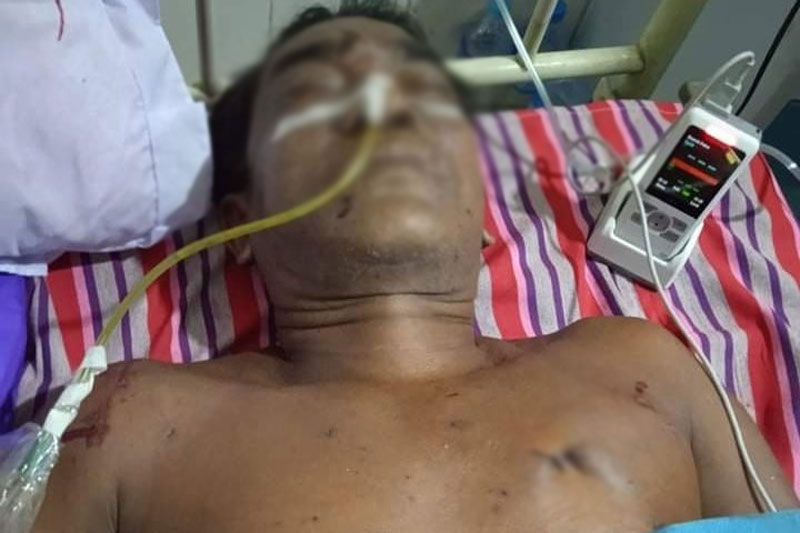 Hnin Nwe | DMG
16 October 2020, Sittwe
One of four people injured in the recent shelling of a village in Arakan State's Rathedaung Township died on Thursday evening while receiving treatment at Sittwe General Hospital. 
Four residents of Pyar Pin Yin village in Rathedaung Township were wounded when artillery shells landed in their village on October 14. U Ba Shwe, 57, was gravely injured by shrapnel and died at the hospital in Sittwe the following day. 
"He had to undergo an operation due to serious injuries," said U Than Tun, who was assisting the victim. "The operation took around four hours. He was alive when he came out of the operating room, but died shortly after."
The three other villagers, ages 35, 56, and 34, suffered minor wounds and were admitted to Rathedaung Township Hospital for treatment.
Since early October, nine civilians have been injured in shellings and crossfire in Rathedaung Township.
Civilian casualties due to fighting between the military and the Arakan Army (AA) have continued to rise in Arakan State. According to data gathered by DMG, at least 122 civilians were injured from June to October 15.
The 10 ethnic armed group signatories to the Nationwide Ceasefire Agreement (NCA) released a joint statement on the fifth anniversary of the accord's signing on October 15, calling on the military and the AA to resolve armed conflict in Arakan State through political means.