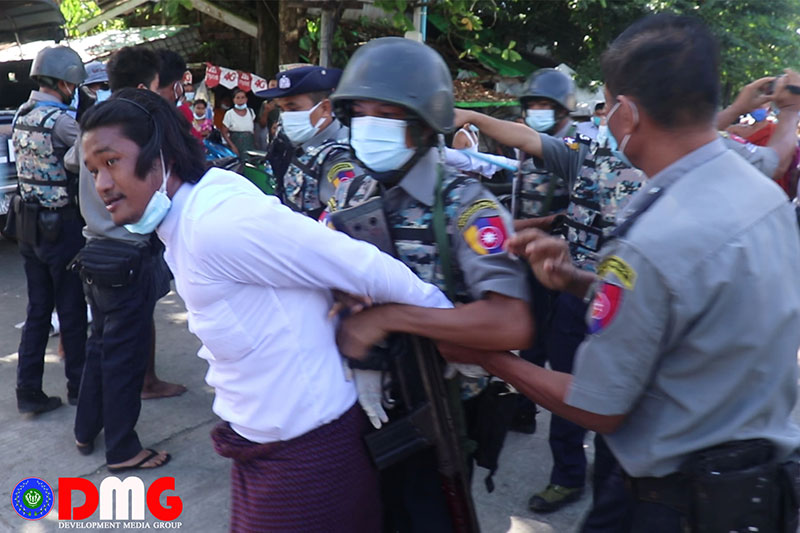 Aung Htein | DMG
19 October 2020, Sittwe 
Three student activists and a supporter were arrested after they staged an anti-war demonstration in the Arakan State capital Sittwe on October 19. 
More than 30 people joined the protest organised by the Arakan Students' Union. Ko Kyaw Naing Htay, the information officer of the Arakan Students' Union, Ko Oo Than Naing from Sittwe University of Computer Studies and Ko Myat Soe Win of Kyaukphyu Education College were arrested along with a supporter.  
Before being detained by police, Ko Kyaw Naing Htay said Monday's protest was staged in response to what he characterised as the government's disregard for demands made at previous protests, and in opposition to recent prosecutions of peaceful demonstrators.  
"Arakanese people continue to suffer from a news blackout and wrongful killings. And clashes have intensified. So we have staged a peaceful protest," Ko Kyaw Naing Htay said.  
Ko Oo Than Naing said: "Even if the government can't put pressure on the military, it should at least voice concerns for the people. But it doesn't. It doesn't stand up for the people. What can we hope for if even the elected government can't do that?"  
The four are currently being detained at Sittwe Township Police Station No. 1. Ko Kyaw Naing Htay and Ko Oo Than Naing are also facing lawsuits under the Peaceful Assembly and Peaceful Procession Law for staging a protest against human rights violations in Arakan State in early September.  
Recently, two students from the All Burma Federation of Student Unions who staged an anti-war protest in Mandalay were each sentenced to a total of five years in prison and have another court hearing scheduled for October 21. 
Beginning in September, more than a dozen people have seen charges brought against them under the Peaceful Assembly Law, the Natural Disaster Management Law and the Penal Code for staging demonstrations against armed conflict, human rights abuses and internet restrictions in Arakan State.