ALD joins in criticism of nixed elections in Arakan State
The Arakan League for Democracy (ALD) said in a statement on October 19 that the failure to hold the general elections in non-conflict areas in Arakan State would deprive local people of their right to vote.
By Min Tun 20 Oct 2020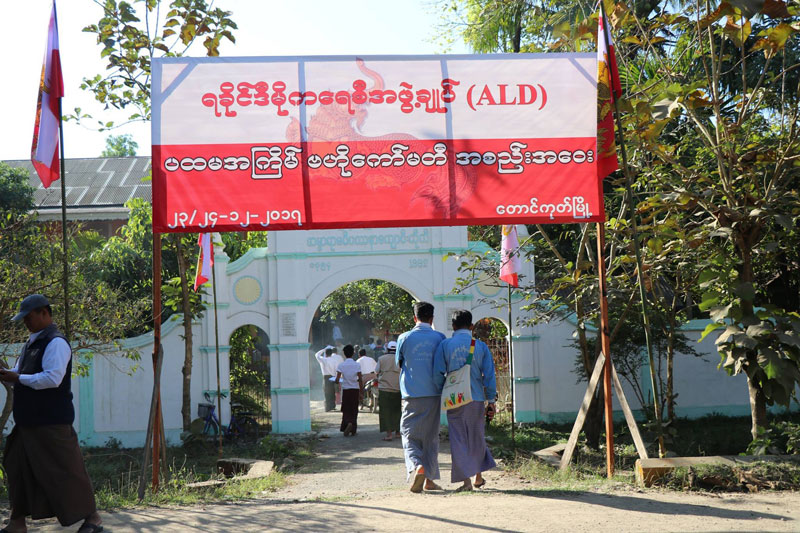 Min Tun | DMG
20 October 2020, Sittwe 
The Arakan League for Democracy (ALD) has joined a growing chorus of political parties and ethnic groups criticising the cancellation of elections in several parts of Myanmar including a majority of Arakan State's 17 townships. 
In a statement on October 19, the ALD said failure to hold the general election in parts of Arakan State not experiencing armed conflict will unnecessarily deprive local populations of their right to vote. 
The ALD noted that initial indications are that elections will go forward as planned in Paletwa Township, Chin State, where fighting has flared on multiple occasions in recent years, but not in some places like Arakan State's Pauktaw Township, where armed conflict has been negligible. 
The Union Election Commission (UEC) cited security concerns in explaining its election cancellations in Arakan State, which were announced last week. 
"There is no fighting in Pauktaw Township. I don't understand why the general election is not being held 'for security reasons' in some areas where there is no fighting. Cancellation of the voting is detrimental to the people in the areas where there is no armed conflict," said U Myo Kyaw, the ALD secretary. 
On October 16, the UEC said the entirety of nine Arakan State townships — Pauktaw, Ponnagyun, Rathedaung, Buthidaung, Maungdaw, Kyauktaw, Minbya, Myebon and Mrauk-U — as well as dozens of village-tracts and wards in four other townships in the state, will not be holding elections on November 8.  
More than 1.2 million eligible voters will be disenfranchised as a result of the election cancellations, according to the Arakan State election subcommission. 
With no ballots being cast in more than half of the state's constituencies, the ALD said the upcoming vote would not be representative of Arakan State and its people. 
The ALD said the National League for Democracy (NLD) stood to benefit from the UEC's election cancellations, because the nixed constituencies in Arakan State are not favourable electoral territory for the ruling party, with ethnic Arakanese political parties garnering strong local support. 
The ALD urged the UEC to reconsider the scope of its election cancellations, warning that equality was at stake and that widespread disenfranchisement in Arakan State could lead to an escalation in regional conflict. 
Five allied ethnic political parties issued a joint statement on October 18 decrying the UEC decision on constituencies where voting will not take place, sharing many of the ALD's concerns.