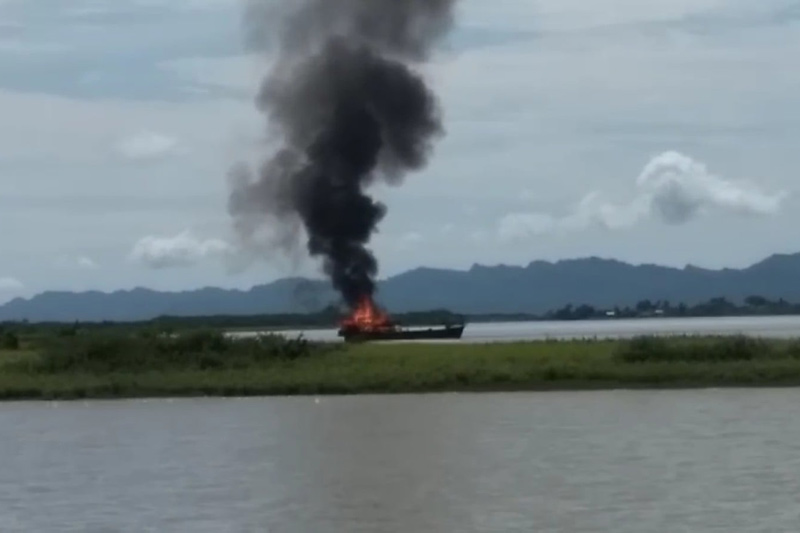 Myo Thiri Kyaw | DMG
28 October 2020, Sittwe 
One man was killed and three others were wounded when a motorboat carrying relief supplies from the International Committee of the Red Cross (ICRC) was fired upon in Rathedaung Township, Arakan State, on October 28, according to local residents and a lawmaker. 
The boat, which was traveling along the Mayu River, caught fire and was partially submerged after being attacked near Pyinwun village in Rathedaung Township, locals said. 
Ko Zaw Win Htay, 18, who was aboard the watercraft, died at the scene, while fellow passengers U Hla Wai Maung, U Maung Than Wai and U Kyar Aye Chan were injured, said U Khin Maung Latt, the Upper House lawmaker for Rathedaung Township. 
"A motorboat hired by the International Committee of the Red Cross was hit by heavy weapons fired by the Myanmar Navy while travelling to IDP camps in Rathedaung and Buthidaung townships to deliver relief supplies to IDPs there, killing an 18-year-old man and injuring three people," the lawmaker said. 
Ko Lin Tun Zaw, a resident of Pyinwun village, confirmed the incident. 
"A motorboat with four people aboard was fired at from a navy vessel, injuring three people and killing one on the spot. Two of three injured people are said to be in critical condition. The dead victim was reduced to only flesh and bones," he said.  
DMG phoned Brig-Gen Ye Yint Aung of the Tatmadaw True News Information Team seeking comment on the allegations, but he could not be reached.  
In a statement, the ICRC corroborated some of the details provided by local residents, while making no mention of a fatality, nor of who was responsible for the attack. 
"We confirm that the incident involved a commercial boat transporting ICRC supplies from Sittwe to Rathedaung as part of its ongoing humanitarian assistance in support of the civilian population affected by the armed conflict. No ICRC staff were present on the boat or in its vicinities at the moment of the incident," the ICRC said. 
Two of the boat's surviving passengers were sent to Zedipyin rural hospital with severe injuries while the third is receiving treatment in a nearby village, said Ko Aung Naing Lin, a local from Aungzigone village. 
"ICRC's main concern now is to ensure that the boat crew members reportedly injured during the incident receive timely medical assistance and support," the ICRC said in its statement. 
DMG contacted an ICRC official seeking additional information on the incident, and was initially told that it was being investigated by the organisation. A call back on Wednesday evening was not returned as of press time.  
"The ICRC is in contact with the concerned authorities to further assess the situation. Meanwhile ICRC field trips from Sittwe and activities in Rathedaung Township will be temporarily suspended until further notice," the ICRC statement concluded.