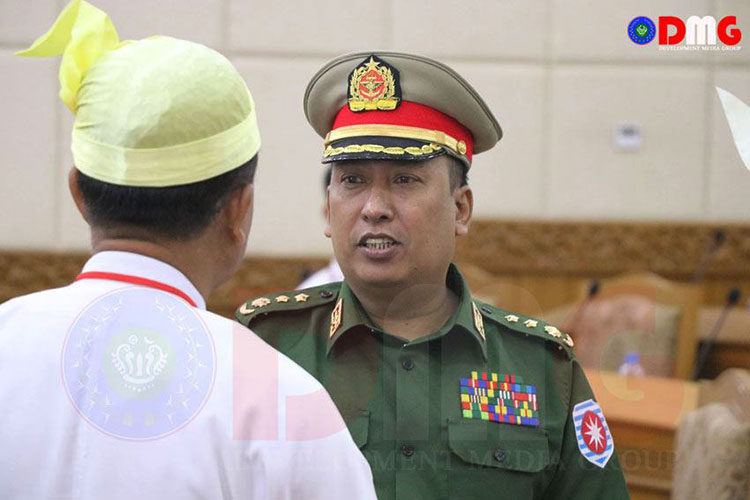 Mrat Swe | DMG
16 November 2020, Sittwe 
Civilian casualties of the conflict in Arakan State and their families have received financial support from the government, according to the state's Security and Border Affairs minister, Col. Min Thant, who told lawmakers that logistical support was also offered to those in need of hospitalisation.  
The Department of Disaster Management under the Ministry of Social Welfare, Relief and Resettlement provided K300,000 ($232) each to the families of 132 deceased and K50,000 each to 328 people injured by the conflict at the request of respective ward and village administrators, the minister said. 
"We make sure that the injured get to the hospital on time, whether they are wounded by the fighting or not," he added, speaking at a session of the state legislature in Sittwe on November 16. 
The security minister was responding to a question from U Aung Than Tin, an Arakan State MP for Ponnagyun Township, who asked whether the state government had assisted those killed or injured by fighting between the Tatmadaw and the Arakan Army. 
The deceased and injured victims of the conflict were typically rural people with limited financial and intellectual capacity who are struggling to survive, the lawmaker added. 
"The government has a responsibility to ensure the safety and well-being of the people," he said.  
Despite the government's financial support to conflict victims, Arakan State Parliament Speaker U San Kyaw Hla said he was not satisfied with what he described as a lack of effectiveness on the ground. 
"It is difficult for the government to deal with the situation on the ground. The government should have worked with local parliamentarians in providing cash aid to the conflict victims. The government has a responsibility to provide financial assistance to those killed and injured by the armed conflict," the state assembly speaker said. 
Hostilities between the military and the Arakan Army have flared with regularity in Arakan State since late 2018; from June to November 16 of this year there have been at least 53 deaths and 155 people injured due to landmine explosions, artillery and small arms fire, or other combat-adjacent violence. 
According to the Rakhine Ethnics Congress, the number of internally displaced people (IDPs) in Arakan State has climbed past 236,000 due to ongoing clashes between the military and the Arakan Army over the past two years, with IDPs facing numerous and varied hardships.