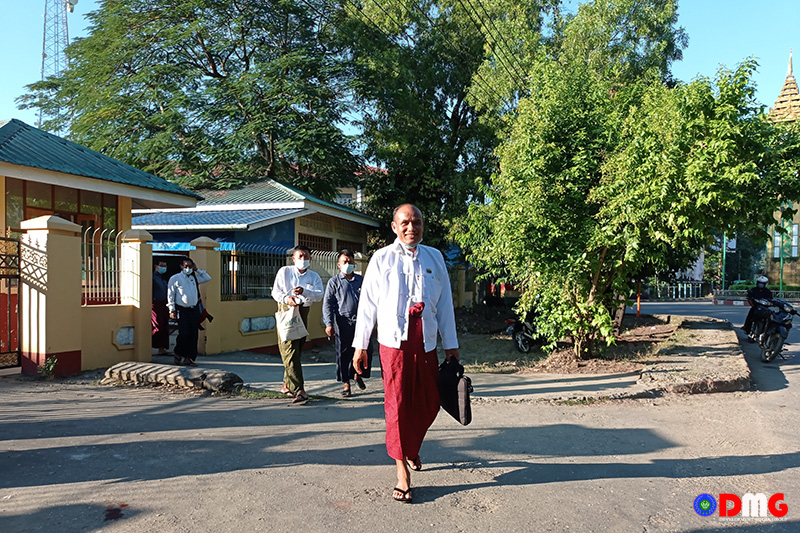 Aung Htein | DMG
16 November 2020, Sittwe 
More than two years after a member of the Arakan State Parliament was sued over a critical Facebook post, the MP has decided to face the charge brought against him under Section 66(d) of the Telecommunications Law. 
U Than Maung Oo from Ramree Township turned himself in to court authorities in Sittwe on November 16 and was granted bail. A hearing has reportedly been scheduled for November 26. 
In a Facebook post on June 2, 2018, the lawmaker allegedly wrote that Arakan State was the worst in the country in terms of education, with equally critical assessments of several other aspects of state governance.  
The Arakan State Education Department filed a suit against him that same month, but U Than Maung Oo had not cooperated with trial proceedings, nor has he attended parliamentary sessions, since the case against him was filed. 
"In the meantime, one thing is I was not feeling well," he said of his failure to appear in court for more than two years. "And also I had been pinned down in a place. I over-travelled and the trip happened to be in the middle of fighting. [Now], I will face the case." 
Section 66(d) covers defamation using a telecommunications network. The provision has gained notoriety over the years as plaintiffs in government, the military and ordinary citizens alike have used it to seek legal redress for hurt feelings or to otherwise penalise critical speech, with the offending sentiment often conveyed online.    
The Tatmadaw last month opened a case under Section 66(d) against a retired lawyer, U Tha Pwint, for his sharing of Facebook posts about civilian deaths amid conflict in Arakan State. 
In the first four years of the National League for Democracy (NLD) government's five-year term, cases involving violations of free speech were filed against 1,051 people, according to the freedom of expression group Athan. Charges brought under the Telecommunications Law topped the list.