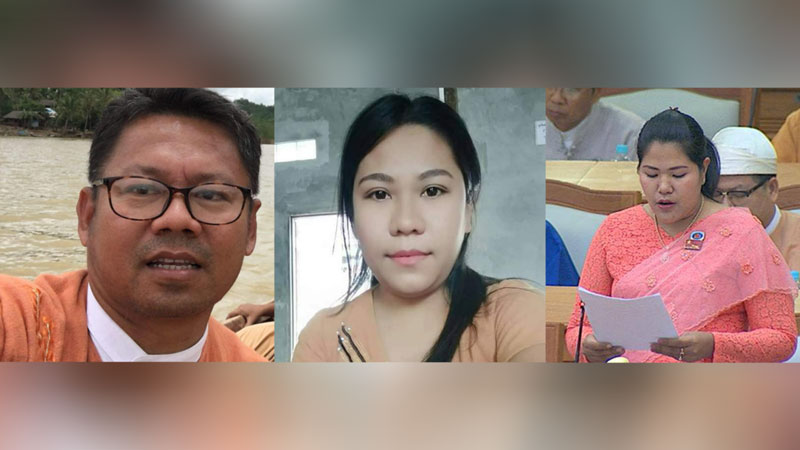 Aung Htein | DMG
21 November 2020, Sittwe
The Arakan Army (AA) on Saturday said it has treated well the three National League for Democracy (NLD) candidates that it abducted last month, adding that it would release them when the two sides reach mutual understanding.
In a November 21 statement, the ethnic armed group also called on the NLD government to immediately release on humanitarian grounds Arakanese civilians and politicians arrested on suspicion of having ties to the AA; relatives of the United League of Arakan, the political wing of the AA; and anti-war student protesters detained in recent months for demonstrating.
NLD spokesman Dr. Myo Nyunt said there would be significant progress in the peace process if the Arakan Army avoids "terrorist acts" like abducting innocent civilians, and instead engages in political dialogue.
"We believe the government will make a constructive move like releasing prisoners as a gesture of welcoming the peace process," he said.
The three NLD candidates — Daw Ni Ni May Myint, Daw Chit Chit Chaw and U Min Aung — were arrested by the AA during election campaigning in Taungup Township, Arakan State, on October 14.
The NLD has twice called for the release of the trio, most recently on November 18.
The Arakan Army has also asked that elections be held in Arakan State townships where voting was cancelled in the November 8 general election before a new administration takes office next year.
"It is high time [all sides] walked the walk, not just talked the talk, for national reconciliation," said the AA statement.
In recent weeks, hopes have been raised for a de-escalation of the conflict between the Arakan Army and the Tatmadaw after the latter welcomed a November 12 statement from the former calling for military cooperation in order to hold elections by the end of the year. 
Political observers and lawmakers have viewed the statements from the Tatmadaw and the AA as holding the potential to help bring peace to Arakan State, but those optimistic assessments have been accompanied by calls for practical actions.
The Three Brotherhood Alliance, which includes the Arakan Army, has urged the Myanmar government to withdraw its declaration of ethnic armed organisations as terrorist groups and unlawful associations in order to build trust in the peace process. (The government and military jointly declared the Arakan Army to be a terrorist group and unlawful association on March 23.)
According to the Rakhine Ethnics Congress, more than 236,000 people have been displaced by the fighting in Arakan State. But as clashes have de-escalated in recent weeks, some displaced persons (IDPs) have begun returning to their homes.