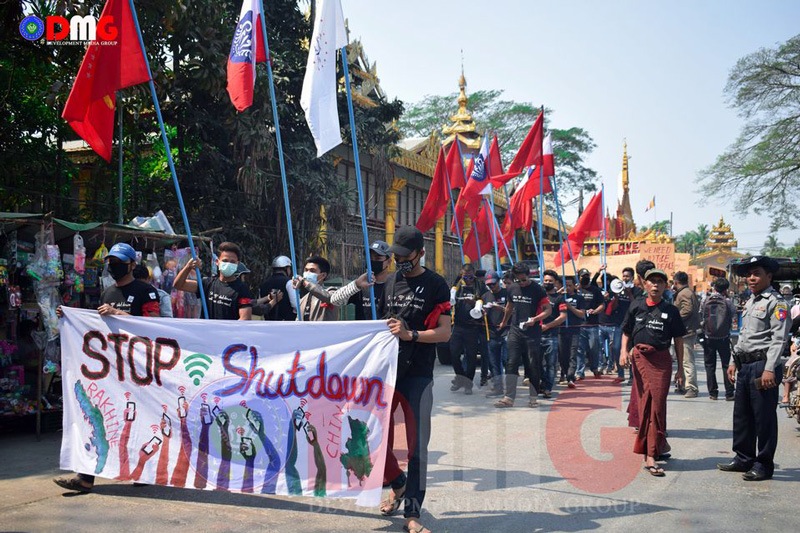 Khin Tharaphy Oo | DMG
24 November 2020, Sittwe

The National League for Democracy (NLD) government is likely to resume full mobile internet services in northern Arakan State if security improves in the area, the ruling party's spokesman Dr. Myo Nyunt told DMG.

"We are very sorry that some basic human rights are denied due to security concerns. It will be possible to resume the services if and when security improves," said Dr. Myo Nyunt.

In June 2019, the Myanmar government imposed an internet blackout in eight townships in Arakan State — Ponnagyun, Rathedaung, Mrauk-U, Kyauktaw, Minbya, Myebon, Maungdaw and Buthidaung — and Chin State's Paletwa Township, citing security concerns.

Internet services were resumed in some townships in September of that year, but the government re-imposed the blackout in February 2020 before resuming internet services in Maungdaw in May. In early August, the government resumed mobile internet services Buthidaung, Ponnagyun, Kyauktaw, Rathedaung, Mrauk-U, Minbya, Myebon townships in Arakan State and Paletwa Township of Chin State, but the network was and remains limited to 2G access.

As the situation has become relatively stable on the ground in Arakan State, the presumed incoming NLD government should act "with farsightedness," said Lower House lawmaker U Oo Tun Win of Kyauktaw Township.

"There is not much difference between the internet ban and 2G internet access. If the government really represents the people and has genuine will to promote citizens' rights and human rights, it should provide full 4G internet service, which contributes a lot to press freedom and information flow. It should have never imposed an internet blackout. As an incoming government, [the NLD] should act with farsightedness," said the MP.

Ko Bekkar, who is helping internally displaced people (IDPs) in Rathedaung Township, said he would continue to call on the NLD government to lift the internet restrictions.

"We have continuously called on the Daw Aung San Suu Kyi-led government for full internet access. As it will continue to hold the office for the next five years, I would like to call on it again," he said.

Ashin Chekinda, who is helping IDPs, said restricted internet access in northern Arakan State deprives locals of vital health information needed to curb the state's COVID-19 outbreak, and also hampers attempts to assist IDPs.

The limitations of 2G internet service effectively prevent local residents from accessing educational messages and real-time information issued by the Ministry of Health and Sports about the coronavirus, said the Buddhist monk.

"I want the incoming government to address this. It has the responsibility. There are a lot of difficulties in containing COVID-19 due to a lack of information. Some don't even know the symptoms of COVID-19," he said.

Not only local residents but also government departments have reported problems with administrative functions in Arakan State due to the restricted internet.