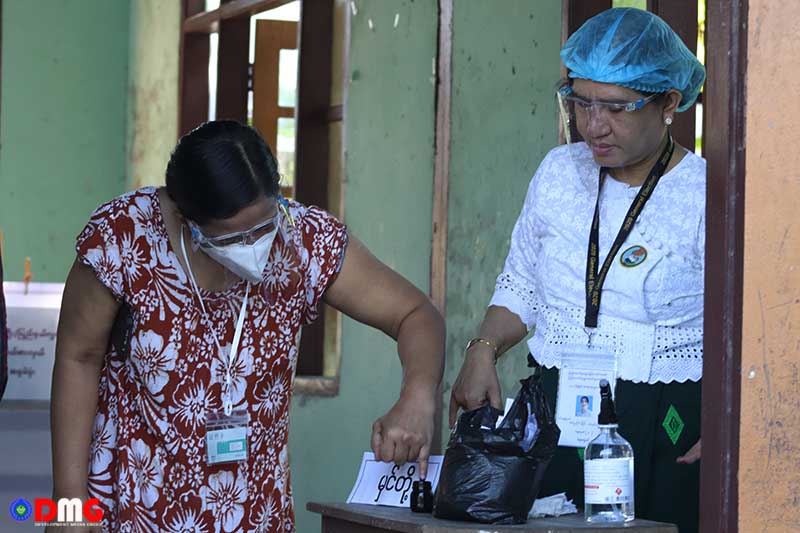 Min Tun | DMG
24 November 2020, Sittwe 
The Arakan State election subcommission is ready to hold elections in townships in Arakan State where elections were cancelled if the Union Election Commission (UEC) decides to hold the election, said U Thurein Htut, secretary of the local election body.  
"If the UEC announces plans to hold by-elections or the elections, everything is ready. We have prepared the ballot papers and the polling station equipment with the polling station officials," he said. 
The 2020 general election was held on November 8, but voters went to the polls in only eight of Arakan State's 17 townships. 
In a statement on November 12, the ethnic armed group said the Tatmadaw should work with the National League for Democracy (NLD) government in order to end military operations in Arakan State, declare a nationwide ceasefire and hold by-elections as soon as possible. 
The Tatmadaw welcomed the AA statement and said it would coordinate with respective agencies as much as possible to hold by-elections in the areas where the 2020 election did not take place on November 8, the Tatmadaw True News Information Team said in a November 12 statement of its own in apparent response to the AA missive.  
The Arakan State election subcommission welcomes the statements released by the Arakan Army and the Tatmadaw, U Thurein Htut said. 
"I want the elections to be held in cancelled constituencies because it [the election] is the lifeblood of democracy. Then there will be representatives elected in accordance with the will of the people. They will have lawmakers who will work for the interests of the respective areas. We welcome the election because democracy can be allowed to flourish," he added.  
The UEC and the government have the main responsibility for holding the elections, said Daw Khin Saw Wai, the Lower House MP for Rathedaung Township. 
"I think the UEC would hold the elections in some townships where the 2020 general election has not yet been held because the Arakan Army and the Tatmadaw have also announced that they will take responsibility for security. It depends on the UEC and the government to hold the election," the legislator added.  
Citing security concerns, the UEC last month cancelled elections in the entireties of nine townships in northern Arakan State, as well as several wards and village-tracts in Sittwe, Kyaukphyu, Taungup and Ann townships. 
On November 13, the Arakan CSO Network urged the NLD government and the UEC to throw their support behind a push to hold elections as soon as possible in the areas where no voting took place on November 8.