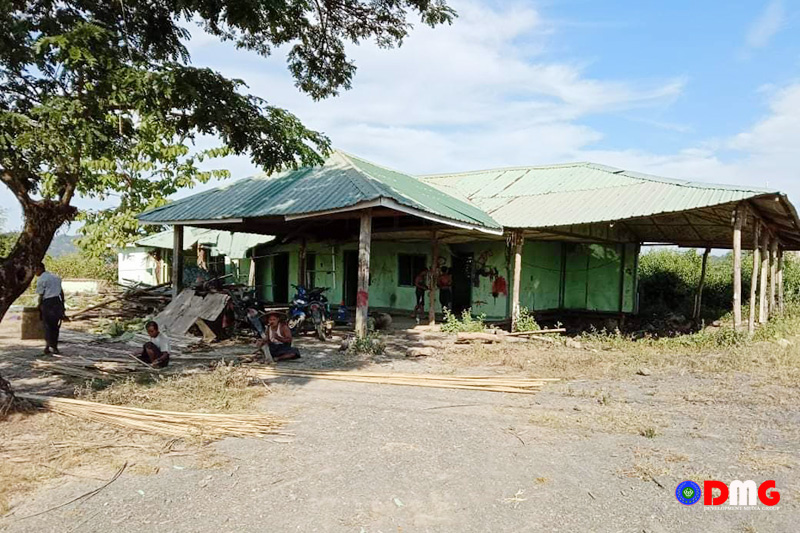 Hnin Nwe | DMG
24 November 2020, Sittwe

An orphanage named "Metta Yeik" is being built in Myebon Township's Kanhtaunggyi town to look after children orphaned by fighting between the Tatmadaw and the Arakan Army (AA), according to the shelter's construction committee.
The orphanage will be opened mainly for the children of those killed in the conflict and children who have lost their mothers, said Ko Maung Cherry, the information in-charge of the orphanage construction committee.
"What we are thinking about now is that the orphanage will accept children from infants to 10 years old. We will also accept children over the age of 10 who have lost both parents in the villages destroyed by the armed conflicts," he told DMG.
The orphanage is currently under construction in Ywathit Ward, Kanhyaunggyi town, and will start accepting children at the end of November, according to the orphanage construction committee.
"At the moment, we have not been able to buy a land plot, so we have to rent a building for two years. Since there are not many donors yet, the committee members are raising money to build an orphanage. We have children registered with us to stay in the orphanage, but the orphanage is still under construction and children will be accepted at the end of the month," Ko Maung Cherry explained.
Five children from Rathedaung and Ann townships who have been orphaned by the armed conflicts have so far been registered to live at the orphanage.
The Metta Yeik orphanage is being set up by government departments, town elders and civil society organisations in Kanhtaunggyi, and will accept Arakanese as well as non-Arakanese children, according to the orphanage construction committee.
"The programme, led by a local funeral service, is designed to care for orphans for whatever reason. We give necessary suggestions because we are committee members," said U Maung Kyaw Hsan, the Kanhtaunggyi town administrator.
The government should implement a plan for the future of children orphaned by the fighting, said U Shwe Baw Sein, chairman of the Rakhine Ethnics Congress (REC).
"We see the lack of government programming for orphans as a weakness. Even if the government can't do it on its own, it needs to be recognised when the people take the leading role," he said.
He added that civil society organisations need to be able to provide the necessary assistance in caring for the orphans.
According to data released by the REC, the number of internally displaced people (IDPs) in Arakan State has climbed to more than 236,000 due to the conflict between the military and the Arakan Army over the past two years, with IDPs facing numerous and varied hardships.