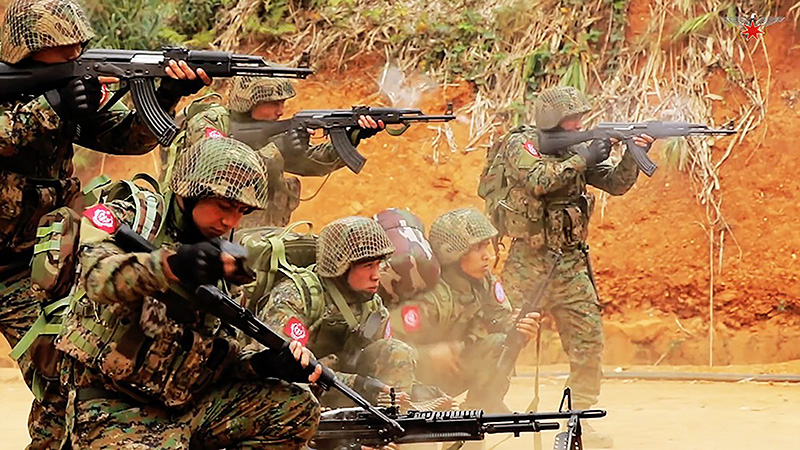 Aung Htein | DMG
27 November 2020, Sittwe
Although there are no direct negotiations between the Myanmar military and the Arakan Army (AA), communication is taking place through intermediary organisations and individuals, said Maj-Gen Zaw Min Tun of the Tatmadaw True News Information Team.
The military spokesman made the remarks at a press conference in Nay Pyi Taw on November 27. 
He said the Tatmadaw did not want to comment on the designation of the Arakan Army and its political arm, the United League of Arakan, as terrorist organisations, which both the military and the government declared in March. In the past, there have been instances of peace negotiations with illegal groups and rescission of the label in certain situations, Maj-Gen Zaw Min Tun added.
"I won't argue as to whether the designation of the Arakan Army as a terrorist organisation is legal or not. I mean, once agreements are reached through negotiations, there have been instances where terrorist organisations have been removed from the list of terrorist organisations," he said.
On November 11, the Three Brotherhood Alliance urged the Myanmar government to withdraw its declaration of ethnic armed organisations as terrorist groups and unlawful associations in order to build trust in the country's peace process. 
Dr. Aung Myo, a political analyst, said the Arakan Army was currently carrying out reforms and that the Tatmadaw had recognised this.  
"Recently, the Arakan Army has taken good care of the government officials and detainees without killing them. I think the Tatmadaw recognises the acts of the Arakan Army. If this happens, the Arakan Army will be removed from the list of terrorist organisations," he said.
Fighting between the Tatmadaw and Arakan Army in Arakan State has eased since the two sides issued statements after the November 8 general election that were seen as boding well for future relations.
More than 236,000 internally displaced people (IDPs) have been displaced by the conflict in Arakan State, and some IDPs have returned home in recent days as military tensions have reportedly eased.