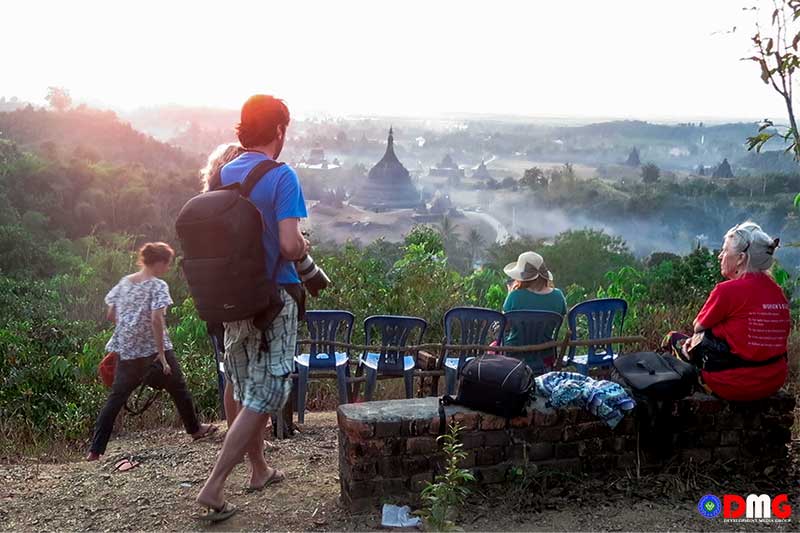 Myo Thiri Kyaw | DMG
3 December 2020, Sittwe
Due to instability and the effects of the COVID-19 pandemic, domestic and international travellers to Arakan State have dropped by nearly 25% this year compared with 2019, according to figures from the state's Directorate of Hotels and Tourism.  
The number of travellers from January to October 2019 was 104,764 but fell to 78,900, including those quarantined, over the same period this year. 
The chairman of the Mrauk-U Tour Guide Association, U Than Tun, said although Arakan State normally received more visitors during the upcoming cold season (typically December-January), most tourism businesses will not be operational due to a statewide stay-at-home directive issued by the Ministry of Health and Sports. 
"There is no hope that travellers will come to Mrauk-U. It is because of this virus. All land routes and waterways have been closed," he said. "We cannot expect any hope at all for us in Mrauk-U. Even those living in nearby townships did not come. It is impossible that international visitors would come." 
Visitors to Mrauk-U in 2017 stood at more than 5,000. The number dropped to about 1,000 in 2018 and 2019, when fighting between the military and Arakan Army plagued the region. Traveller numbers in 2020 fell even further, to almost nil, U Than Tun said.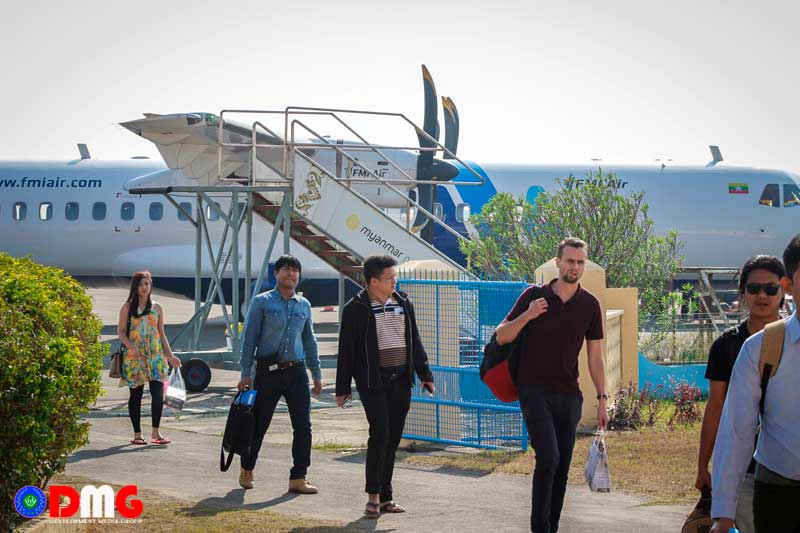 A souvenir shop seller from Mrauk-U, Ma Phyu Phwe, said because there were virtually no travellers to Mrauk-U this year, shop owners like herself are facing livelihood difficulties. 
"There are no visitors. There were some even during the time of fighting. After the onset of COVID-19, there was none. Our livelihood has been much-affected as business is not good," she said. 
Travellers to Arakan State typically visit Thandwe, Sittwe, Kyaukphyu and Mrauk-U townships. 
The assistant director of Thandwe District's Directorate of Hotels and Tourism, U Myint Soe, said visitors to Ngapali Beach were just a trickle this year, even though the travel season would now be well underway in normal times. 
"Visitors will come in the post-COVID-19 period. It [tourism] mainly depends on the coronavirus. We cannot forecast how many will come and when the hotels will be able to open as we don't know when the disease will end," U Myint Soe said. 
Most hotels in Thandwe have been closed for months as Myanmar began reporting its first cases of COVID-19 in March, with a subsequent surge in Arakan State infections beginning in mid-August. International commercial flights into Myanmar have been suspended since late March, with the government last week extending that ban through December 31.  
Figures from the Arakan State Directorate of Hotels and Tourism said 169,121 local and international travellers visited the state in 2017, there were 142,782 in 2018, and 139,962 in 2019.