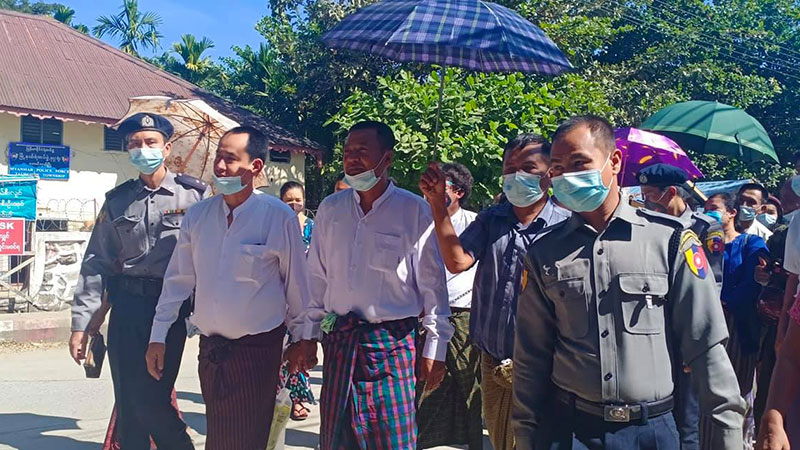 Aung Htein | DMG
15 December 2020, Taunngup

The Taungup Township Court on December 15 examined three prosecution witnesses in the case of four men including an ex-chair of the township Development Affairs Committee and a local Arakan National Party vice chair, who face terrorism charges for allegedly illegal ties to the Arakan Army.
U Wai Thaung, the vice chair of the ANP in Taungup Township, the chair of the Taungup Township Develoepmt Affaris Committee U Zeya Kyaw his younger brother U Sithu Kyaw Zan, and the former chair of the Taungup Township Development Committee, U San Ngwe, have been charged under Section 52(a) of the Counter-Terrorism Law.
Their next court hearing is scheduled for December 28.
The head of the Thandwe police station and two administrators of the Nos. 3 and 4 wards in Thandwe Township were heard by the township court as prosecution witness, said Daw Theingi Maung, a lawyer for the accused.
"Two ward administrators, as civilian witnesses, gave statements that they signed as witnesses during the process of arresting the four accused. Police Captain Ye Min Soe [of the Thandwe police station], the third witness, [testified to] the date he received the case as a matter of police process. They said nothing special," said the lawyer.
The court summoned four prosecution witnesses, but only three could be examined on Tuesday due to insufficient time, she said.
The fourth witness was Police Captain Hla Tint, head of the Taungup police station, she added.
A total of 12 witnesses have been examined through December 15, according to lawyers involved in the case. There are 13 prosecution witnesses in total and nine were examined at previous court hearings.
The trial has faced delays related to the failure of the prosecution's last four witnesses to appear in court prior to the case's ninth hearing this week.
The delays have affected the well-being of the defendants, who have suffered physically and are emotionally exhausted, said Daw San San Aye, the wife of U San Ngwe. The defendants were arrested in May, and have bounced between custody locations in Yangon and Arakan State during multiple remands.
"Their reason for not appearing in court is COVID-19. So, we cannot say anything to them," she said of the last few witnesses.
A case was opened against the four men in June at the Taungup Township Court, accusing them of having ties to the Arakan Army that included providing food to the illegal ethnic armed group. Their family members have denied the accusations.
The punishment for offences charged under Section 52(a) of the Counter-Terrorism Law is three to seven years' imprisonment and/or a fine.