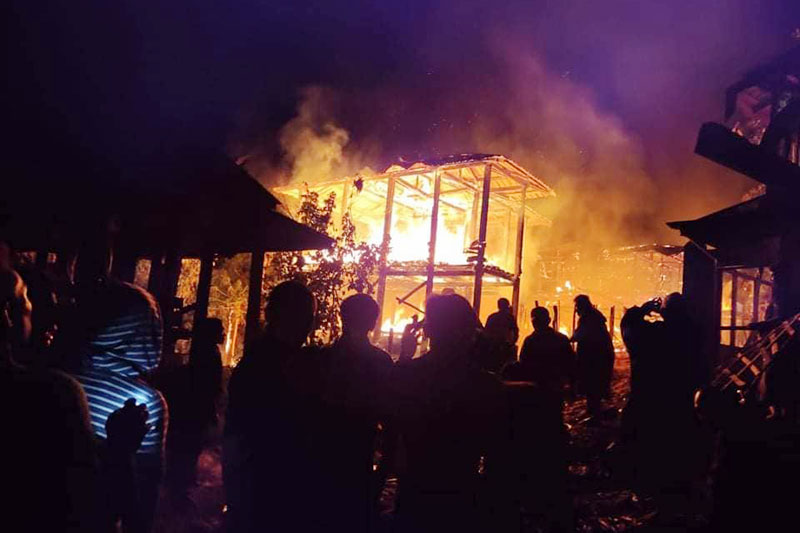 Myo Thiri Kyaw | DMG
29 December 2020, Sittwe

A house fire broke out at Shan Kone village in Ann Township, Arakan State, late Monday evening, destroying six homes and the Lauk-tu (Chin) Literature and Culture Committee office, residents said.
A majority of Shan Kone village's residents have been displaced from their homes due to previous armed clashes, now sheltering at IDP camps in Ann town and other areas. U Tin Hla, a 100-household head in Shan Kone village, said few people are living in the village and that the house where the fire originated is not yet known.
"Villagers were sleeping at that time and they do not know where the fire started. An old man alone is living in one of the affected houses. There were no people in the other houses. The old man did not get injured during the fire," U Tin Hla said on the morning of December 29.
Ko Myo Lwin, a resident of Ann town, said the houses that were destroyed in the fire are owned by people currently taking shelter at IDP camps.
"No one knows which house started the fire. Villagers dare not go outside to see the situation," he said.
U Aung Than Htay, head of the Fire Services Department in Ann Township, said an investigation is being conducted in an effort to determine where the fire started.
On December 22, a fire broke out in Kyauktaw town due to an electrical problem at a household that was relying on a battery for some of its power. Seven shops in the vicinity were destroyed. The following day, a blaze at a convenience store in Minbya town was also described as an electrical fire, and destroyed two houses and a warehouse.
The Fire Services Department in Arakan State said relevant township departments are providing public awareness to limit fire hazards, while acknowledging that fires broke out in four different Arakan State townships in the second half of December alone.