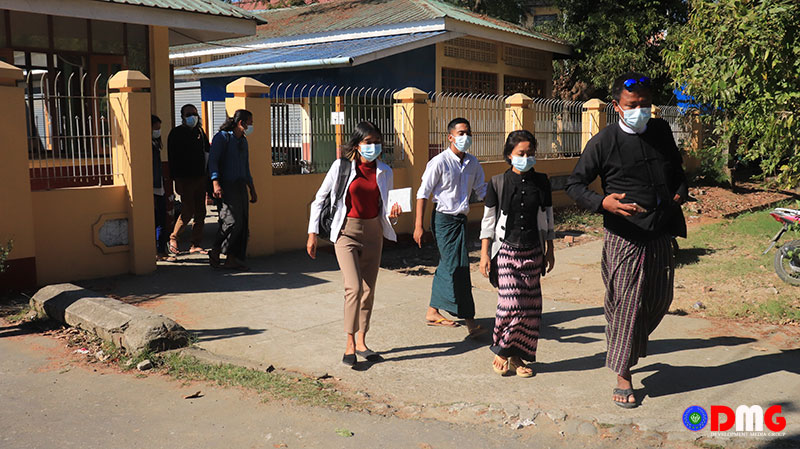 Aung Htein | DMG
30 December, Sittwe 
Three youths charged under Section 19(a) of the Peaceful Assembly Law over a human rights demonstration in the Arakan State capital earlier this month appeared before the Sittwe Township Court on December 30. 
Ko Min Bar Chay aka Ko Than Hla, one of the accused, said a meeting to develop a case management plan was held at the court on Wednesday.  
"The judge asked both sides if we wanted to settle the case. Both sides said to go to trial," he said. 
More than 30 young people joined a demonstration in Sittwe to mark Human Rights Day, celebrated globally on December 10, during which participants denounced ongoing human rights violations in Arakan State. Their march began at Sittwe's BXT port and proceeded along Shukhintha Street, with demonstrators holding placards protesting rights abuses. The three defendants were arrested by police near Sittwe Hotel, and were released on bail later that evening. 
Ko Min Bar Chay, Ko Naing Naing Tun and Ma Khine Myat Thu from the Rakhine Youth New Generation Network were charged on December 21 by the head of the Sittwe Township police.   
"I do not understand why [the judiciary] accepted the charge. We did not stage a protest. We did not criticise someone. But the legal [authorities] accepted the charge of the police against us," Ko Min Bar Chay said. "It proves how Myanmar's rule of law, justice and judiciary sector is deteriorating." 
Under Section 19 of the Peaceful Assembly and Peaceful Procession Law, anyone who is convicted of assembling or demonstrating without applying for a permit in advance faces up to three months in prison, a fine not to exceed K30,000 ($22.50), or both. 
Their next court hearing is scheduled for on January 14.