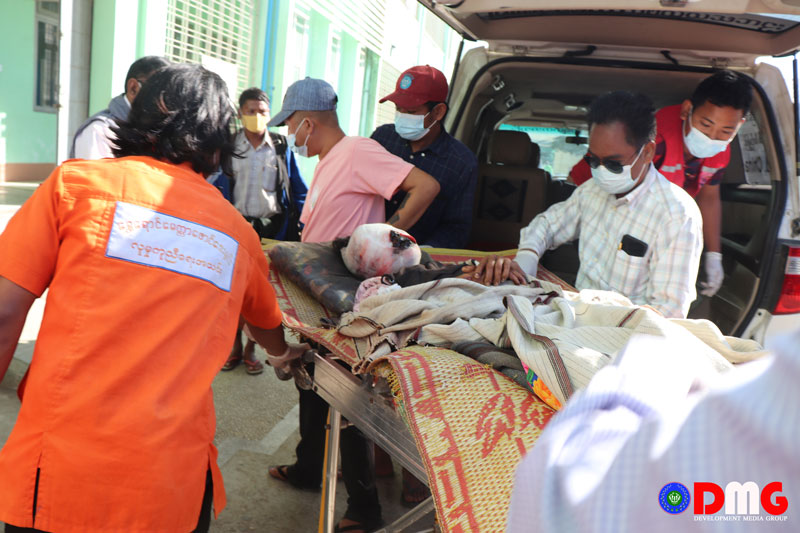 Aung Htein | DMG
5 January 2021, Kyauktaw 
A woman from Khabaw village in Kyauktaw Township, Arakan State, sustained severe injuries on January 4 after stepping on a landmine while she was heading to cut firewood with her sister east of the village, said U Kyaw Hla Htwee, the younger brother of the victim. 
Daw Khaing San May, 43, suffered cuts from shrapnel on much of her body, including her face, and her right ankle was shattered, he said. 
"She is in critical condition. She cannot open her eyes. My sister has three children. I feel so sad for my elder sister," U Kyaw Hla Htwee said. 
Daw Khaing San May was transferred from Kyauktaw Hospital to Sittwe General Hospital on Tuesday morning. 
The majority of villagers in Khabaw, which is home to more than 300 people, are farmers and many are worried about getting to their farmland and working the fields after hearing about landmine encounters in the area. 
A total of 18 people were killed in Kyauktaw Township by landmines and explosive remnants of war, and 70% of them were under 18 years old, said U Oo Tun Win, the Pyithu Hluttaw lawmaker for Kyauktaw.
"Landmine explosions are a challenge in Kyauktaw Township because residents are not provided knowledge about landmines and they lack awareness about landmines," he said. "Villagers step on landmines in the forest near their village. It is distressing for villagers who have to rely on the forests for their livelihood." 
Fatalities and dismemberments are on the rise due to landmines and explosive remnants of war (UXO) in conflict-plagued parts of Myanmar.  
Nationwide, 13 children were killed and 56 were injured by landmines and UXO in the nine months from January to September 2020, according to the United Nations Children's Fund (UNICEF). 
The UN agency noted: "Children represent 35 percent of casualties from landmine and UXO explosions countrywide and Rakhine [Arakan] State has the highest rate of child casualties with 47 percent of the total." 
Between January and November of last year, 53 civilians were killed and 158 were injured by landmines, explosive remnants of war and errant artillery shells or gunfire, according to a list compiled by DMG, which has covered the Tatmadaw-AA conflict since it began two years ago.